GTSA played host for this tournament at the Normandy Hotel, Renfrew on Sunday 22nd February. This time Glasgow players made up 7 of the 17 competitors. Tom Burns once again reached the final, once again played Steve Bennett and once again lost, 4-0 being the losing margin. Burns won his qualifying group and then beat Englishman, Brian Daley 3-2 to make the final. Bennett with one event still to go, cannot be caught and therefore retains his championship. Burns is in a good position to finish runner-up. Next best for GTSA was Baver Bari. He won his group edging out Dave Gladman by virtue of having scored one more goal. Bari's reward was a crack at Steve Bennett where Bari did score 2 goals but unfortunately conceded 6. Defeat then to Daley meant a 4th finish for Bari, an excellent performance.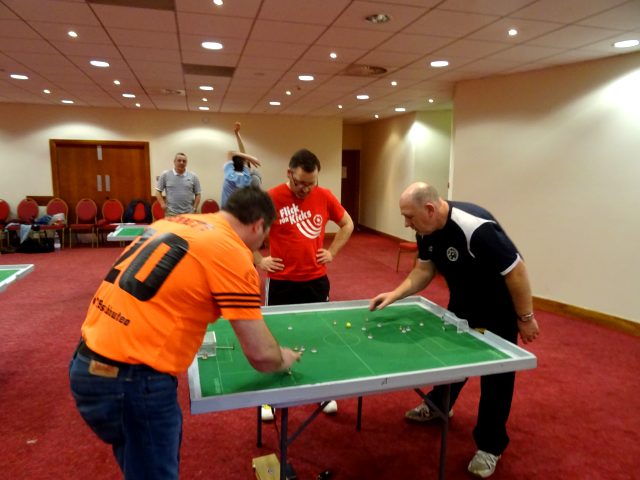 Dave Gladman qualified for the 5th-8th place finals where he had a 1-0 victory over Malcolm Lees before succumbing 3-0 to Gareth Christie. Sixth place was Gladman's best finish so far. Colin Berry and Ronnie McKenzie both finished 3rd in their groups. Berry had started well beating John Halpin 4-0 but then slumped to two 3-0 defeats to Gladman and Bari. McKenzie had lost by a single goal to both Tom Burns and Ben Staples in his group. The result was that Berry and McKenzie were drawn to play each other in the 9th-12th placings finals. Locked at 1-1 the game went to shots and it was Berry who was victorious. Berry was to finish 10th after finding Greg Dand just too strong. But for McKenzie it was another 1-1 draw and another defeat on shots, this time to Conor Bowden and he had to settle for 12th.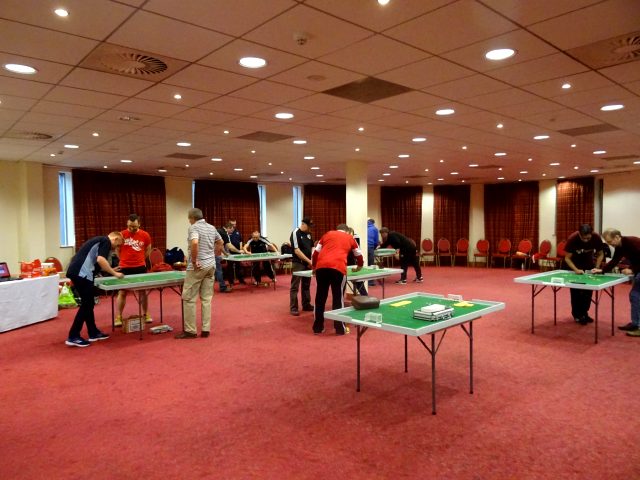 As already reported John Halpin lost 4-0 to Colin Berry in the all Glasgow group. His other two matches were closer but ended in single goal defeats. In the 13th-16th finals he lost to Dave Baxter but finally managed a victory when he overcame Craig Thom 2-0, thus finishing 15th. Unfortunately for Fraser McKenzie he was drawn in the 'group of death' with Gareth Christie, Greg Dand and Brian Daley. This meant he had the poorest 4th place finish (but by only one goal) and had to play off with Andy Beskaby who had finished 5th in the group of five. Beskaby won 2-0.
%%wppa%%
%%slide=24%%
Full Results
SCOTTISH TABLE FOOTBALL ASSOCIATION
SCOTTISH CHAMPIONSHIP EVENT 3 of 4 – Glasgow, 22nd February, 2015
Group 1
Steve Bennett
6
v 3
Malcolm Lees
Pld
W
D
L
F
A
Pts
Dave Baxter
2
v 1
Andy Beskaby
Steve Bennett
4
4
0
0
18
3
12
Steve Bennett
5
v 0
Dave Baxter
Malcolm Lees
4
3
0
1
11
9
9
Conor Bowden
1
v 2
Malcolm Lees
Conor Bowden
4
1
1
2
3
8
4
Conor Bowden
0
v 5
Steve Bennett
Dave Baxter
4
1
1
2
3
9
4
Malcolm Lees
3
v 1
Andy Beskaby
Andy Beskaby
4
0
0
4
3
9
0
Andy Beskaby
1
v 2
Conor Bowden
Dave Baxter
1
v 3
Malcolm Lees
Steve Bennett
2
v 0
Andy Beskaby
Dave Baxter
0
v 0
Conor Bowden
Group 2
Pld
W
D
L
F
A
Pts
Gareth Christie
1
v 0
Greg Dand
Brian Daley
3
3
0
0
9
1
9
Brian Daley
6
v 1
Fraser McKenzie
Gareth Christie
3
2
0
1
5
2
6
Gareth Christie
0
v 2
Brian Daley
Greg Dand
3
1
0
2
6
3
3
Fraser McKenzie
1
v 6
Greg Dand
Fraser McKenzie
3
0
0
3
2
16
0
Fraser McKenzie
0
v 4
Gareth Christie
Greg Dand
0
v 1
Brian Daley
Group 3
Pld
W
D
L
F
A
Pts
Tom Burns
2
v 1
Ronnie McKenzie
Tom Burns
3
3
0
0
10
3
9
Craig Thom
0
v 4
Ben Staples
Ben Staples
3
2
0
1
6
2
6
Tom Burns
6
v 1
Craig Thom
Ronnie McKenzie
3
1
0
2
5
3
3
Ben Staples
1
v 0
Ronnie McKenzie
Craig Thom
3
0
0
3
1
14
0
Ronnie McKenzie
4
v 0
Craig Thom
Ben Staples
1
v 2
Tom Burns
Group 4
Pld
W
D
L
F
A
Pts
Dave Gladman
0
v 0
Baver Bari
Baver Bari
3
2
1
0
5
1
7
Colin Berry
4
v 0
John Halpin
Dave Gladman
3
2
1
0
4
0
7
Dave Gladman
3
v 0
Colin Berry
Colin Berry
3
1
0
2
4
6
3
John Halpin
1
v 2
Baver Bari
John Halpin
3
0
0
3
1
6
0
John Halpin
0
v 1
Dave Gladman
Baver Bari
3
v 0
Colin Berry
Semi-finals
Steve Bennett
6
v 2
Baver Bari
Tom Burns
3
v 2
Brian Daley
Final
Steve Bennett
4
v 0
Tom Burns
3rd/4th
Brian Daley
3
v 0
Baver Bari
5th-8th
Gareth Christie
3
v 0
Ben Staples
Dave Gladman
1
v 0
Malcolm Lees
5th/6th
Gareth Christie
3
v 0
Dave Gladman
7th/8th
Malcolm Lees
5
v 2
Ben Staples
9th-12th
Greg Dand
2
v 1
Conor Bowden
Colin Berry
1
v 1
Ronnie McKenzie
6-5 shots
9th-10th
Greg Dand
3
v 0
Colin Berry
11th-12th
Conor Bowden
1
v 1
Ronnie McKenzie
1-0 shots
13th-17th
play-off
Andy Beskaby
2
v 0
Fraser McKenzie
13th-16th
Andy Beskaby

3
v 0
Craig Thom

Dave Baxter

3
v 0
John Halpin

13th-14th
Andy Beskaby
0
v 0
Dave Baxter
2-1 shots
15th-16th
John Halpin
2
v 0
Craig Thom
17th
Fraser McKenzie
Place
Points
1
Steve Bennett
50
2
Tom Burns
45
3
Brian Daley
42
4
Baver Bari
40
5
Gareth Christie
38
6
Dave Gladman
37
7
Malcolm Lees
36
8
Ben Staples
35
9
Greg Dand
34
10
Colin Berry
33
11
Conor Bowden
32
12
Ronnie McKenzie
31
13
Andy Beskaby
30
14
Dave Baxter
29
15
John Halpin
28
16
Craig Thom
27
17
Fraser Mckenzie
26