There was an excellent turn-out tonight with eleven players attending. Tom Burns' goals against column was increased from 6 to 8 by Baver Bari but unfortunately for Bari he allowed the Burns' goals for column to go up by 7! Bari started well, took an early lead and had two good opportunities to score again. With Burns missing a couple of chances perhaps a shock was on the cards. Or perhaps not. Burns was to find his shooting boots and add considerably to his goals tally.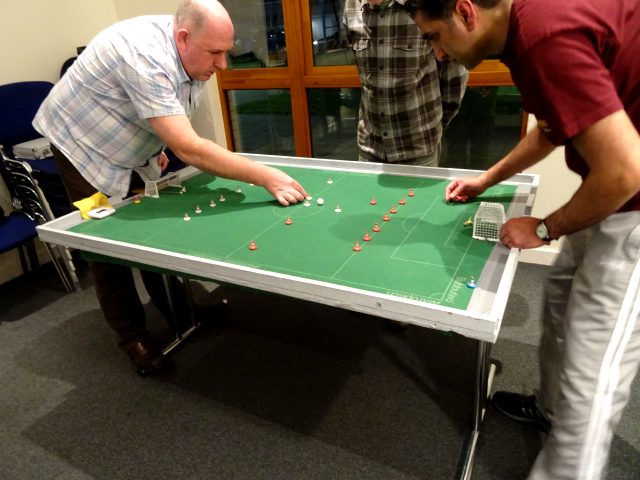 Only two players, Dave Butler and Barry Corr have a realistic chance of overtaking Burns in the title race. Corr has already beaten Burns. Corr had to work hard for his four points tonight. He narrowly defeated Dave Houston who spurned a glorious opportunity to draw level at 2-2. Houston played the ball into an empty net, Corr's goalkeeper having lost possession. Inexplicably Houston failed to notice one of his players in an offside position. Against Gladman, Corr lost an equalising goal with only 30 seconds remaining. Corr took the lead midway through the first half with a fine strike. Gladman dominated possession throughout the match but it was only in the final minute that possession was converted into a goal. The Corr defence had been drawn to the right side leaving a gap on the left which Gladman was able to exploit with a quick movement.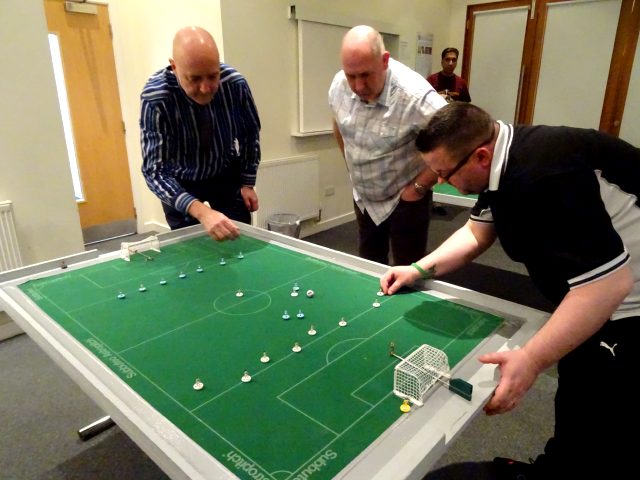 Dave Butler is now 8 points behind Tom Burns but with three games in hand. Barry Corr is three points back but with a further game in hand. This was after Butler's two comfortable victories, in the end, against Ronnie McKenzie and Colin Berry.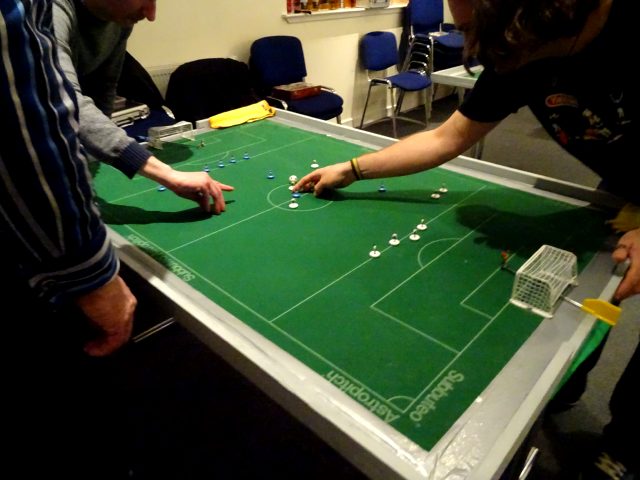 If Willie Fleming had aspirations of catching the leaders, they took a severe dent tonight. John Halpin was able to breach the Fleming defence after only a minute's play and then, a minute later, Halpin, taking advantage of the no-flicks rule at a free-kick, scored again. Halpin added a further two before half-time. Fleming steadied the ship and there was no further scoring in the match. Fleming came back with a two-goal victory over Colin Day another player who will have to look to cup competitions for possible silverware.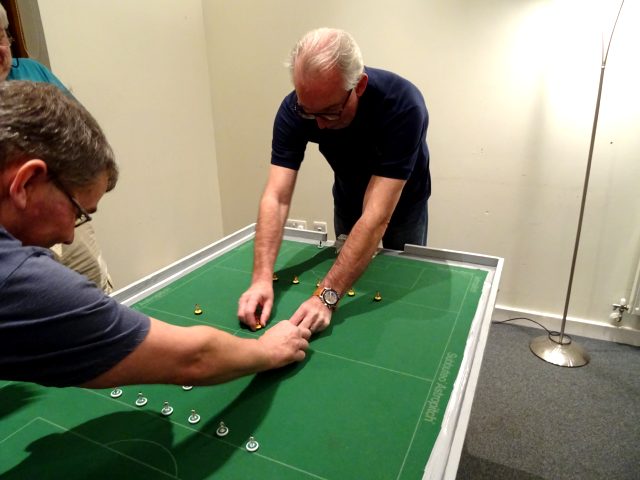 In the Glasgow Cup, Dave Houston came back into qualification contention after a 3-0 win over Baver Bari. A draw against Ronnie McKenzie may prove sufficient.
League
| | | | |
| --- | --- | --- | --- |
| Fleming | 0 | 4 | Halpin |
| Houston | 1 | 2 | Corr |
| Day | 0 | 2 | Fleming |
| Corr | 1 | 1 | Gladman |
| Butler | 3 | 1 | McKenzie R |
| Burns | 7 | 2 | Bari |
| Berry | 0 | 4 | Butler |
Glasgow Cup
Other pictures from the night.
%%wppa%%
%%slide=21%%