Tom Burns increased his lead over Dave Butler to 12 points, the latter having five games in hand. Burns, however, wasn't celebrating as that increase was only one point as he secured a last minute equaliser against Ronnie McKenzie. McKenzie has done well against the top players already, going down 2-1 to Burns earlier in the season and managing a 0-0 draw against Dave Butler. So it shouldn't have been much of a surprise that he had taken a 2-0 lead at half-time. McKenzie has recently changed from Sureshot to DST bases and the better control this has given him has allowed him to dominate the ball much more. McKenzie's second match was against Dave Gladman, another player who is able to hold possession for long periods. McKenzie took an early lead but Gladman levelled before half-time. Both players added a goal in the second half, this time Gladman going ahead and McKenzie equalising.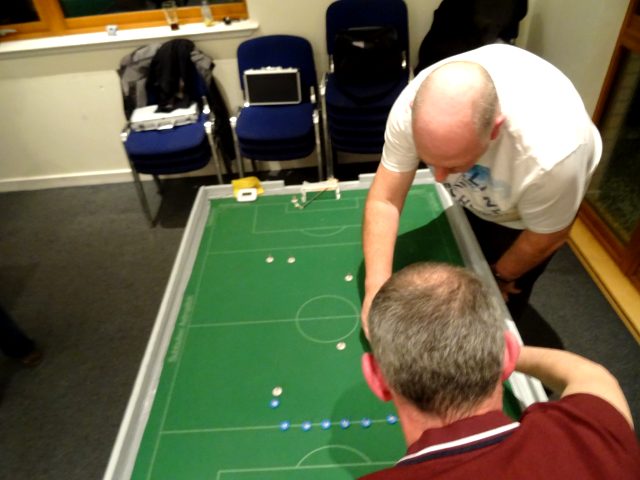 Burns drops points
Willie Fleming moved above Ronnie McKenzie in the league after gathering 4 points this evening. Fleming had much more of the play in his match against John Halpin and more attempts at goal. Halpin, however, was more direct and opportunist. Twice Halpin was ahead at 1-0 and 2-1. At 2-1 Halpin was extremely careless with a defender's flick which allowed Fleming to quickly shoot into an open goal. This was the turning point of the game and it was Fleming who secured a 3-2 victory.  If Fleming created many opportunities against Halpin, he created few against Dave Houston. It has to be said also that Houston created even fewer. Sometimes 0-0 draws are exciting with lots of shots and saves and creative play. Not this one. Nevertheless, Houston's goals conceded column is still in single figures, something shared with only Dave Butler and Barry Corr. But the number of goals he has scored is the second lowest in the league.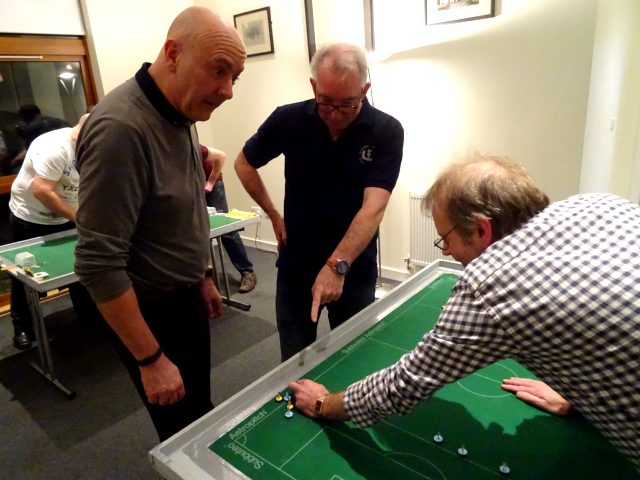 Controversy!!
The first season in the league is always a difficult one. For Fraser McKenzie it's a season for gaining experience and starting to be competitive. It will be many years before McKenzie will have the experience of his first opponent this evening, Dave Houston. Houston was in no mood to be merciful, leading 3-0 at half-time and adding another in the second period. In his last encounter with Colin Berry, McKenzie managed a 2-2 draw. This time, however, Berry made no mistakes and ran out a comfortable 3-0 winner. It was, in fact, Berry's first win of the season and with games in hand over the three players above him he must hope to climb a little higher.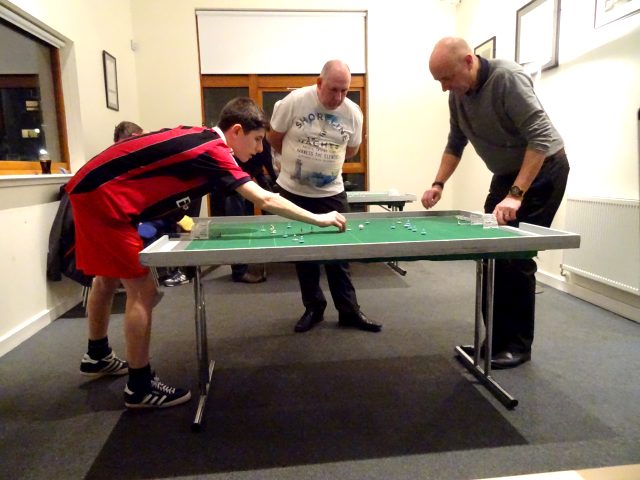 League
| | | | |
| --- | --- | --- | --- |
| Fleming | 3 | 2 | Halpin |
| Houston | 4 | 0 | McKenzie F |
| Fleming | 0 | 0 | Houston |
| Burns | 2 | 2 | McKenzie R |
| Berry | 3 | 0 | McKenzie F |
| Gladman | 2 | 2 | McKenzie R |
%%wppa%%
%%slide=23%%