Malcolm Lees returned to the top of the league after two victories over Barry Corr and Ronnie McKenzie. Whilst his win over McKenzie was comfortable he had to work very hard against Corr. There were no goals in the first half and though both players had second half opportunities it was Lees who netted twice.
If Corr was unlucky against Lees he had some cause to be aggrieved in his second match against John Halpin. The match finished goal-less with Corr probably having the better chances. There was a moment of controversy two minutes from the end of play. Corr played the ball towards Halpin's shooting area whereupon Halpin's block flick knocked the ball away. The ball had stopped and so the referee declared a 'back'. But he wasn't convinced that the ball had crossed the shooting line and so ruled that the ball had not been completely in. Corr had one flick remaining with his figure and so would have had an excellent opportunity to score. The ball may have crossed the line as Corr believed but without the time to ascertain whether this was so and with Halpin also uncertain, the referee had no option but to rule that it hadn't.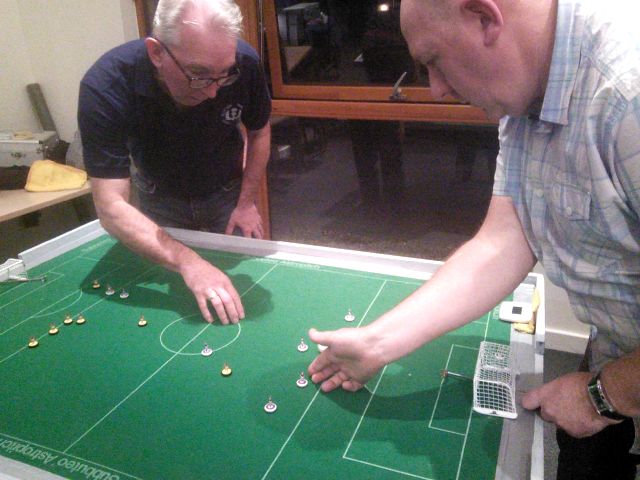 Willie Fleming remains undefeated after five games but it was two draws he added to his league record tonight. The first was a goal-less draw against Dave Gladman. This was Gladman's first game for a month and was he determined not to lose after two defeats in his previous matches. He employed a tactic of keeping possession and didn't set up a shot until the second half. Fleming was limited to only a few opportunites but on the balance of chances he will consider this two points dropped. Fleming's other draw was a tousy 2-2 draw with Tom Burns. Fleming scored early and led at half-time. The draw meant Burns losing his lead at the top of the table.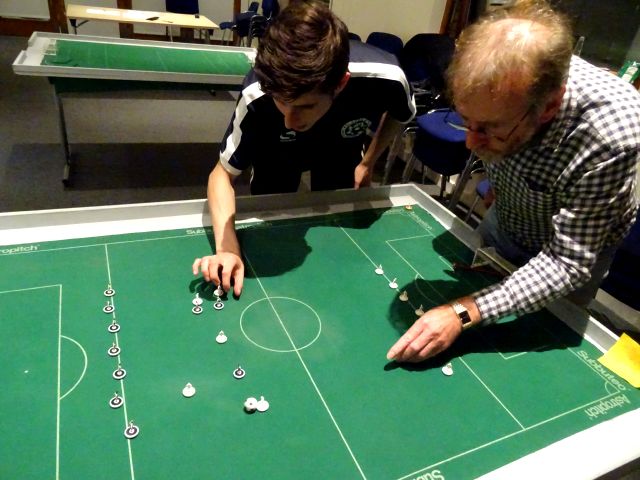 Seven points for Dave Gladman saw him rise seven places up the league. After gaining a point against Willie Fleming he then faced Baver Bari. Gladman started well and sqaundered a few early chances. Bari came more into the game and it was he who took the lead before half-time. In the second half both players had shots on goal but in a match which could have gone either way, it was Gladman who scored twice to take the points. In the final match of the evening Gladman took on Fraser McKenzie. McKenzie started with an ultra-defensive line-up but when Gladman scored it looked like a comfortable win would follow. But Gladman could not find a second goal. McKenzie became more adventurous and it was Gladman who finished the game on the backfoot. With a little bit more composure and better judgment McKenzie could have earned himself a share of the points.
League results
| | | | |
| --- | --- | --- | --- |
| Fleming | 0 | 0 | Gladman |
| Lees | 2 | 0 | Corr |
| Burns | 2 | 2 | Fleming |
| Halpin | 0 | 0 | Corr |
| Lees | 4 | 1 | R McKenzie |
| Gladman | 2 | 1 | Bari |
| Gladman | 1 | 0 | F McKenzie |
e