Willie Fleming now looks favourite for the runner-up spot after he drew level on points with Tom Burns tonight. Both lie seven points behind Malcolm Lees. Fleming still has his sights set on the title but even if he defeats Lees in their remaining league match he would still be four points adrift. He must rely on others taking points from Lees. Unfortunately for Fleming those most likely to do this, Dave Butler, Barry Corr and Colin Day look as if they will withdraw from the league. It might be argued that Fleming is returning to the form which saw him become Glasgow's number one many years ago. Fleming's game is built on a sound defence which is the best in the league. After 16 games his goals against column is still in single figures. Tonight he demonstrated that solid defence again, with no goals conceded in victories over Burns and Ronnie McKenzie. He was able to severely limit his opponents' chances and also to score at critical times. Against McKenzie few chances were created by either player but Fleming cruelly exploited a poor block flick to score the only goal of the game. Against Burns, after a goal-less first half, Fleming showed winning mentality to come out on top.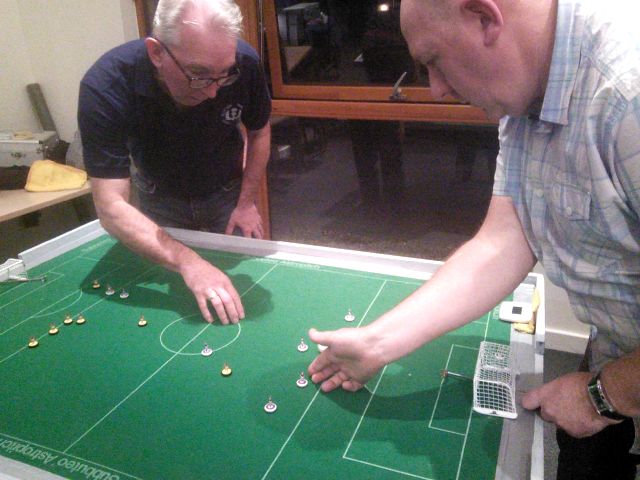 Ronnie McKenzie had few chances against Fleming and it had been the same story when he played Dave Houston earlier, in their first encounter of the season. If Fleming has single figures in his goals against column, Houston is still in single figures in his goals for column and so it remained after tonight. It is interesting that half of Houston's league goals have been against Dave Gladman.
What a night it was for Fraser McKenzie! He hasn't been able to get many points on the board but his games have certainly been much more competitive than last season. First tonight, he managed a 1-1 draw with Dave Gladman. McKenzie's formation was reminiscent of those of Craig Levein but it proved to be effective. Gladman did dominate this match and had more than enough opportunities to win comfortably but it was McKenzie who took his chance to lead 1-0 at half-time. An excellent pick up from distance created the opportunity and he made no mistake. Eventually Gladman found an equaliser, a difficult shot after missing much easier chances. Then came McKenzie's shock victory over Tom Burns. The match was not without controversy as Burns thought he'd found the net with the ball passing right through the goal. The referee did not see it that way and could not give the goal. Burns, perhaps still despondent after losing to Willie Fleming, allowed this to distract him from focussing on winning the game. It was joy for McKenzie, however, as he recorded the best win of his career.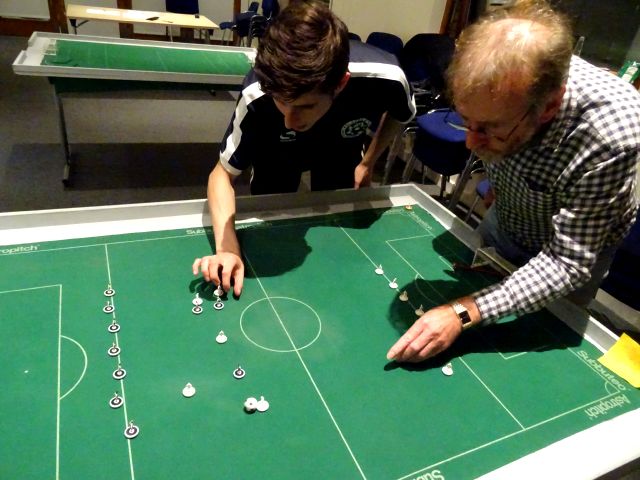 League
| | | | |
| --- | --- | --- | --- |
| Fleming | 2 | 0 | Burns |
| Houston | 0 | 0 | R McKenzie |
| F McKenzie | 1 | 1 | Gladman |
| Fleming | 1 | 0 | R McKenzie |
| Burns | 0 | 1 | F McKenzie |
s