Fraser McKenzie made his first appearance of the season tonight and had to play four consecutive fixtures. The first match couldn't have been tougher – it was Malcolm Lees – but the scoreline of 0-2 was a decent result. In truth Lees should have scored more. He peppered the McKenzie goal in the first half but half-time came and still the scoreline was blank. McKenzie was to have more of the game in the second period but two early goals were enough for Lees. Next up for McKenzie was John Mathieson. This was an interesting encounter since Mathieson has been improving well and last week had defeated McKenzie senior. Both players chose a cautious approach but it was McKenzie who had most of the ball and who scored twice to win the game. Perhaps Mathieson should have committed more men forward, especially after going a goal behind but in the end it was a deserved victory for McKenzie.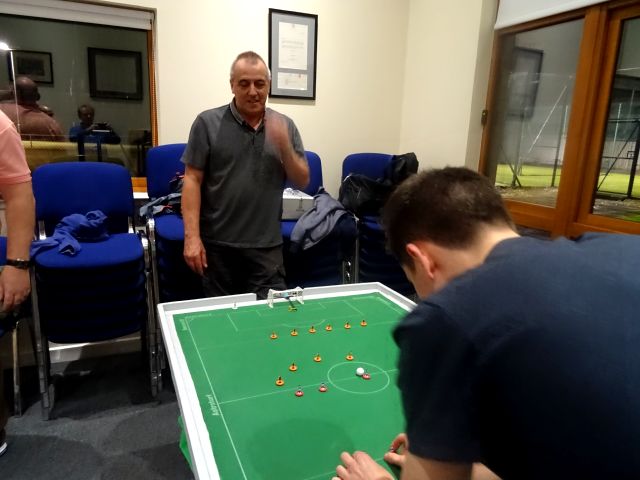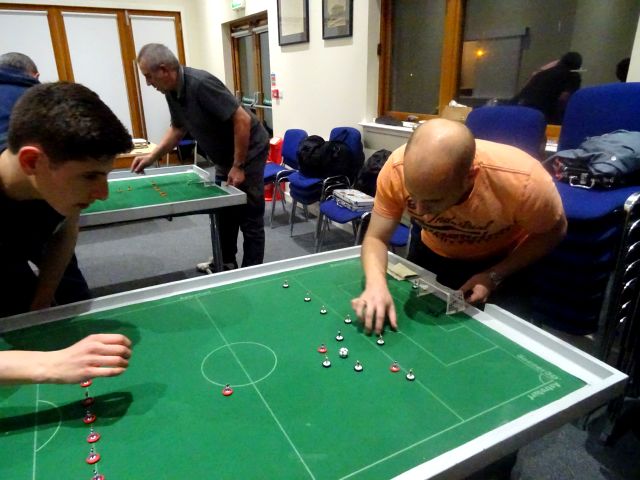 John Halpin has had a good start to the season and must have been confident going into his match against Fraser McKenzie. But Halpin never really got going in this game. He didn't look in any danger but neither did he have any cutting edge. It looked as if there were to be no goals but two minutes from the end of play McKenzie picked up a ball from distance and took Halpin's keeper by surprise with the follow up shot. A draw would have been fair but it was a good bit of skill which won the game. It was quite a start to McKenzie's game against Dave Gladman. Gladman scored in his first period of possession from the kick-off. McKenzie centred and straight away he was level at 1-1. A few minutes later and Gladman was ahead 2-1. Gladman couldn't quite set up a shot and elected to force a throw. The ball took a wicked deflection and spun into the McKenzie net. Both players are not renowned for fast play but this game was proceeding at a fair pace. It was late into the second half before Gladman made the game safe and he was to make the score look more convincing than it really was with a last second fourth.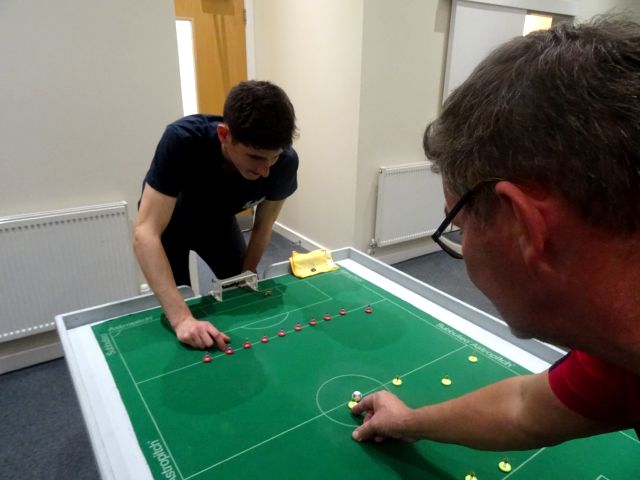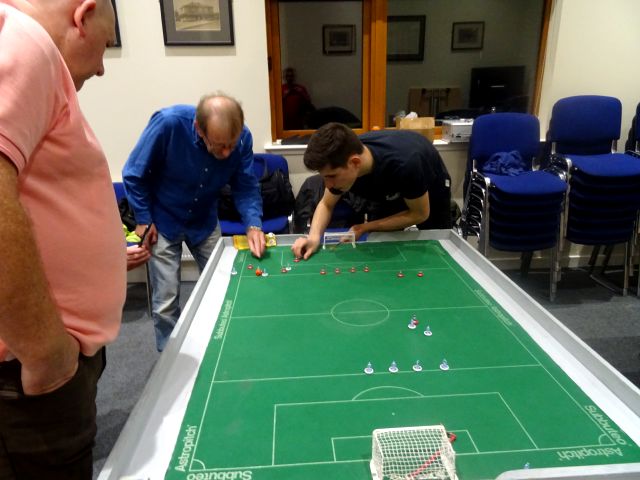 Ronnie McKenzie also played his first two league matches and was unfortunate that these were against Malcolm Lees and Tom Burns. McKenzie had a great start against Lees, taking the lead and then missing a good opportunity to go two ahead. Lees equalised before half-time but then found his shooting boots with four second half goals. Tom Burns then ensured that Lees' league lead was no more than four points with a 4-0 victory over McKenzie. McKenzie will be relieved that his next few matches will not be so difficult.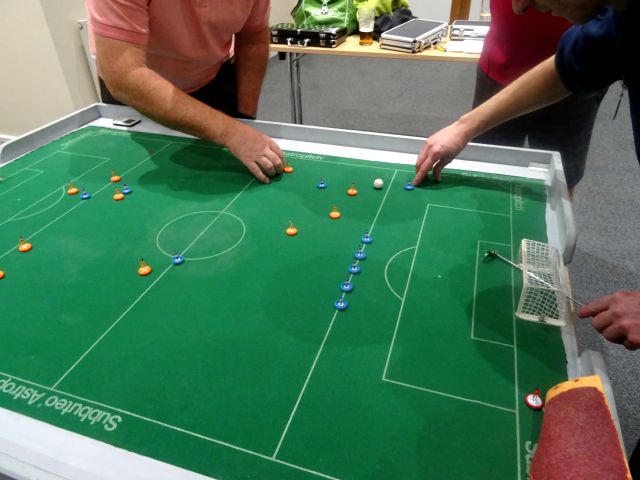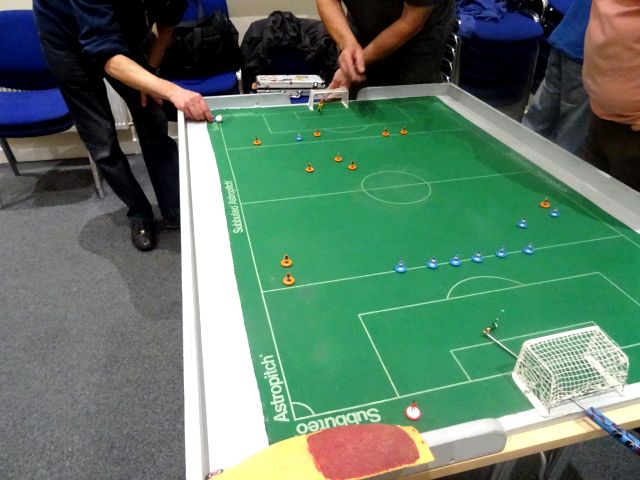 Two Glasgow Cup matches were also played. In Group B Tom Burns notched his third win with a 3-1 defeat of John Mathieson whilst in Group A John Halpin and Dave Gladman fought out a draw. After a goal-less first half Halpin scored early in the second. But it was only a couple of minutes before Gladman drew level. There was no further scoring.
League
| | | | |
| --- | --- | --- | --- |
| F McKenzie | 0 | 2 | Lees |
| R McKenzie | 0 | 4 | Burns |
| Mathieson | 0 | 2 | F McKenzie |
| Lees | 5 | 1 | R McKenzie |
| Halpin | 0 | 1 | F McKenzie |
| F McKenzie | 1 | 4 | Gladman |
Glasgow Cup
| | | | |
| --- | --- | --- | --- |
| Halpin | 1 | 1 | Gladman |
| Burns | 3 | 1 | Mathieson |