Outside, the tennis courts were unplayable due to the covering of ice. The subbuteo pitches were, of course, ice-free but only six players turned up to play on them. Cold temperatures may have contributed to low turn-out but plenty of heat was generated in the few matches which were played. Two matches in group A of the Glasgow Cup saw qualification for both Tom Burns and Colin Day at the expense of Willie Fleming. Fleming played well against Burns and did not deserve to lose the match. Burns led 1-0 at half-time having scored against the run of play. Fleming equalised early in the second half. The goal was scored amid some controversy, Burns claiming that Fleming's figure had shot with its fourth flick. The referee sided with Fleming. Burns' winning goal came right at the end just after Fleming himself had claimed four flicks against Burns. The referee was deaf to the Fleming plea.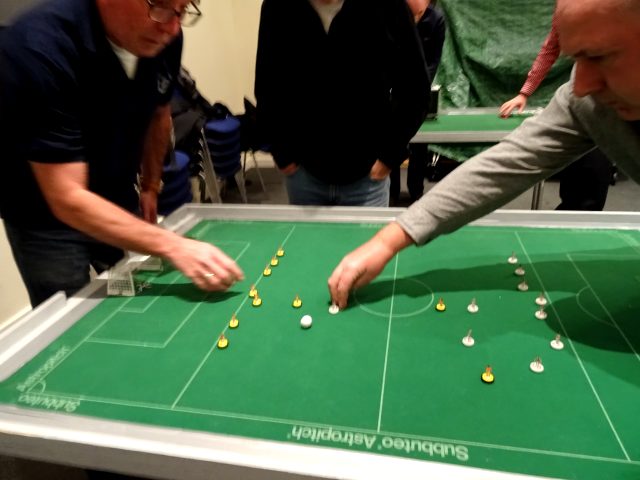 Unfortunately Fleming did not recover from the blow of losing to Burns and in his second Glasgow Cup match succumbed to Colin Day by 3 goals to 1. In Group B Dave Gladman was able to strengthen his qualification chances with a 2-0 victory over Dave Houston.
Only one league match was played with Dave Houston edging out Ronnie McKenzie with the only goal of the game.
Glasgow Cup
| | | | |
| --- | --- | --- | --- |
| Fleming | 1 | 2 | Burns |
| Day | 3 | 1 | Fleming |
| Gladman | 2 | 0 | Houston |
League
As Fleming and Houston headed out into the cold night air, the remaining four played out a round robin from which Gladman emerged as winner.