Malcolm Lees consolidated his position at the top of the league after a dismal night for Tom Burns. Lees had two difficult matches but he came through with six points. Colin Berry was very unlucky not to record a better scoreline against Lees. Berry played well and moved the ball nicely around the pitch. Lees, however, went ahead seconds before half-time. Berry's block intercepted a long ball from Lees which seemed to have been over-hit. From the resultant free-kick Lees took the lead. In the second half Berry had an excellent chance to equalise but after his shot hit the inside of the post, Lees broke away to make it 2-0. Lees had an even tougher match against Willie Fleming. Lees led 1-0 at half-time but Fleming despite exerting much pressure on the Lees' goal, could not find the equaliser. Fleming had earlier managed a 1-0 win over Barry Corr.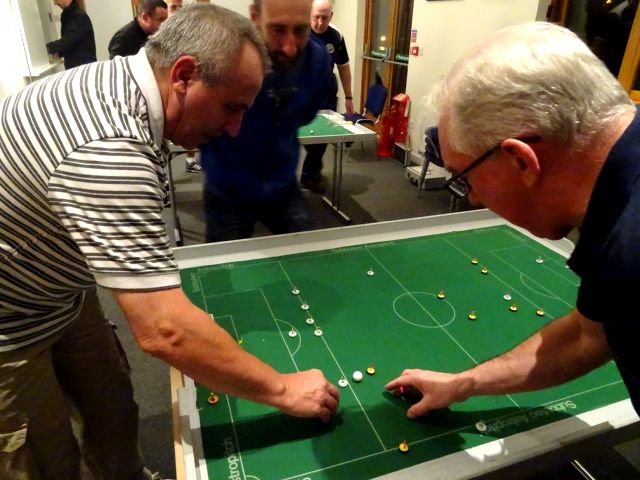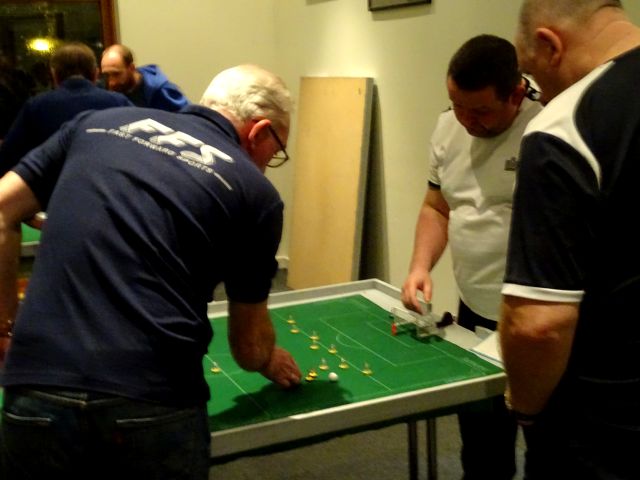 Tom Burns might look back and think that this was the night that he surrendered the league championship. He didn't play at his best against Barry Corr but perhaps the 2-0 scoreline flattered his opponent a little. Corr led 1-0 at half-time after a clever acute angled chip into the far corner. As Burns pressed for an equaliser it was Corr who extended his lead. Burns was to find his shooting boots later against Ronnie McKenzie as he scored four times. Unfortunately for Burns, Mckenzie was also on scoring form as he also netted four times.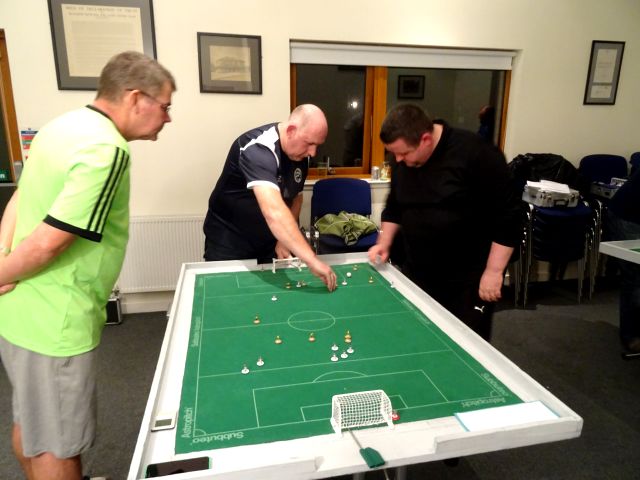 Dave Gladman missed an opportunity to move further up the league, drawing his two matches against John Halpin and Colin Berry. Gladman took a first minute lead against Halpin who was to equalise before half-time with an excellent shot from distance. The result could have gone either way but Halpin will have been disappointed not to make more of an attack near the end against a 3-man Gladman defence. With the amount of pressure Gladman had against Colin Berry he should have earned three points. Whilst Berry was always a threat on the break, a combination of poor Gladman finishing and good Berry defence kept the scoreline blank.
League results
| | | | |
| --- | --- | --- | --- |
| Lees | 2 | 0 | Berry |
| Corr | 0 | 1 | Fleming |
| Lees | 1 | 0 | Fleming |
| Burns | 0 | 2 | Corr |
| Halpin | 1 | 1 | Gladman |
| Burns | 4 | 4 | R McKenzie |
| Gladman | 0 | 0 | Berry |
e