It is 44 years since Dave Houston founded GTSA. Tonight we saw once again some of the Houston magic of old. Only four players attended on the day after Scottish Circuit 3 and only four games were played. Three of them involved Houston. First up was the Glasgow Cup quarter-final replay against Dave Gladman. The original match was a rather turgid 0-0 draw in which Houston had slightly more of the game. Both players were more adventurous this time around and it only took Houston a couple of minutes to equalise after Gladman had taken the lead. Gladman restored his lead in the second half and despite two glorious opportunites for Houston to gain parity, that lead was held to the end. Nevertheless there were signs of improving Houston form. Gladman joins Tom Burns, Willie Fleming and Malcolm Lees in the semi-finals.
There followed a double header against Colin Berry, first of all a league encounter. Houston looked the more likely to score but it was Berry, after a controversial refereeing decision ridiculed by the fans, who took a half-time lead. But deservedly, Houston was able to level and share the points. Then the two players faced each other in the Woodend Handicap Cup. Houston has found it difficult to score this season but he started the match with a one-goal advantage. Two minutes in Houston overhit a pass which went through the centre of the Berry backline. Houston's only option was using a figure very wide right. From this difficult angle, however, Houston was able to avoid the defenders and crash the ball past a surprised Berry keeper. Berry now found himself two goals down with only two minutes on the clock. As Berry commited to attack Houston was able to exploit the defensive gaps and raced to a 4-0 lead. Berry's single goal was mere consolation.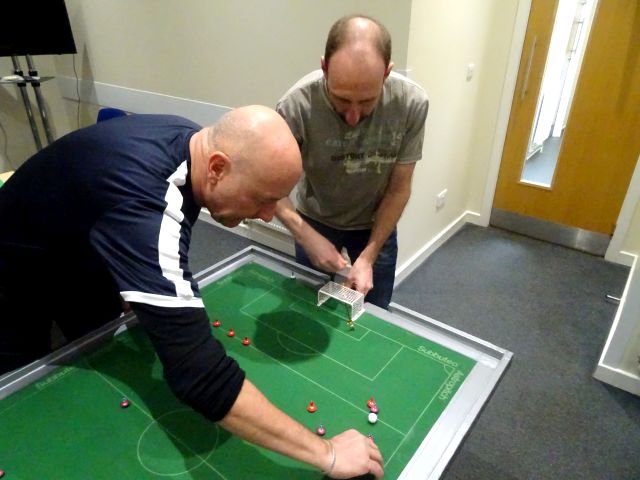 In the league Tom Burns played a crucial game against Dave Gladman. In the first half Gladman enjoyed much possession but neither player really threatened his opponent's goal. Burns scored early in the second half and then doubled his lead after a fine pick-up from distance. The points looked safe but Gladman started to attack with more purpose and soon reduced the deficit. For Burns it was a nervy last few minutes during which Gladman came very close to levelling.
League
| | | | |
| --- | --- | --- | --- |
| Berry | 1 | 1 | Houston |
| Burns | 2 | 1 | Gladman |
Glasgow Cup
Woodend Handicap Cup