Malcolm Lees' hopes of retaining his league title were dealt a blow tonight when he lost 1-0 to Dave Gladman. Lees now trails Tom Burns by 3 points but with a game in hand. With Burns' superior goal difference it looks likely that Lees will have to defeat Burns in their final match to secure the title. But Burns also faces a difficult match against Barry Corr in his other remaining match whilst Lees could reduce the goal difference in his matches against Dave Houston and Fraser McKenzie.
Tonight, however, was Lees' first league defeat in the forty matches he has played since joining the Glasgow club. He gave away possession too easily at times and tended to rush his play when a more considered approach might have been more productive. Nevertheless in the course of the match Gladman had to produce three excellent saves to keep Lees out. Gladman too, had chances but it was right at the end that the deadlock was broken. Gladman had a shot from a wide angle. The keeper saved but unfortunately for Lees the ball rebounded on to a Gladman player at the edge of the penalty box. He took a touch then chipped the ball over the keeper.
In this league campaign Burns and Lees have each lost only one match. Gladman has inflicted both those defeats. Lees has yet to beat Gladman in a league match. Yet Gladman is 21 points off the top of the league.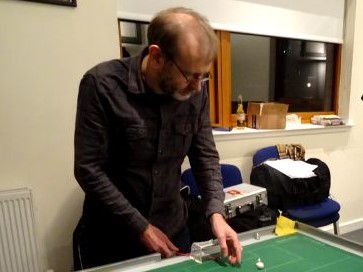 Ronnie McKenzie has been in a great run of form which has taken him to third place in the league. After tonight he still retains third place but he was well beaten by a fine display by John Halpin. This is Halpin's fourth league campaign and this has proved to be a breakthrough season. He has notched up eight wins where his previous best had been three. Could he go a step further next season and challenge at the top? McKenzie has had a good season also and has developed an excellent possession game. He is still a good bet to finish third which would be way better than his previous best of sixth.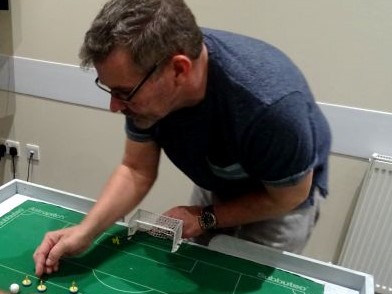 It was a fully focussed Baver Bari who took on Dave Gladman in the first round of the Association Cup and it resulted in a deserved passage to the next round for the Motherwell man. Bari had taken the lead in the first half only for this to be cancelled out by a second half Gladman strike. A replay seemed to be on the cards but with two minutes remaining Bari forced his way through the centre of the Gladman defence to hit the the ball beyond the despairing keeper.
League
| | | | |
| --- | --- | --- | --- |
| Gladman | 1 | 0 | Lees |
| Halpin | 3 | 0 | R McKenzie |
Association Cup
1