After a gap of 18 months the new season kicked off at last. Season 2019/20 was called as it stood and season 2020/21 was written off. We start again as season 2021/22.
Three games were played. First up was Colin Berry against Brian Spoors. Spoors led 1-0 at half-time but two quick second half goals turned the game for Berry. Spoors, however, managed a late equaliser to gain a deserved share of the points.
Next up Berry took on Baver Bari. Bari was favourite to win but it was Berry who took an early lead. It was no surprise when Bari levelled the game before the interval. Bari was dominating possession but he was leaving gaps in his defence and Berry was able to exploit this with quick breaks to score two further goals to take a 3-1 lead. Bari pressed forward, succeeded in reducing the deficit but was unable to complete the comeback.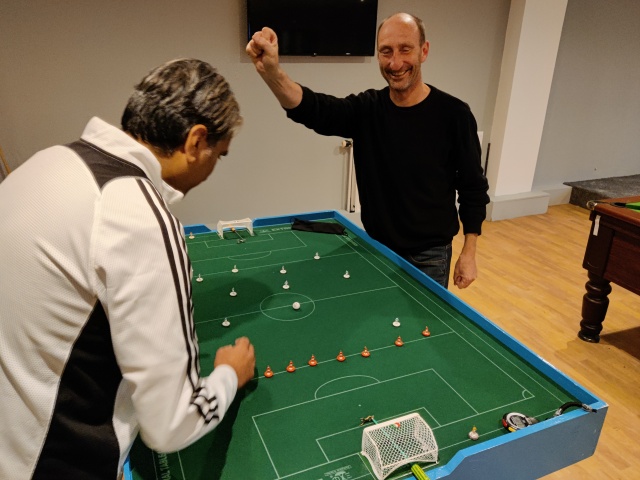 In the final game Dave Gladman played Brian Spoors. Gladman dominated the first half and displayed fine finishing as he raced to a 3-0 lead which he held till half-time. It was a better second half for Spoors as he pulled a goal back early in the second period. Hopes of a comeback were dashed, however, when Gladman added a fourth to complete the scoring.
| | | | |
| --- | --- | --- | --- |
| Berry | 2 | 2 | Spoors |
| Bari | 2 | 3 | Berry |
| Spoors | 1 | 4 | Gladman |