Only three matches went ahead this evening. Each match, however, was in a different competition. First up was an Association Cup replay between Dave Gladman and John Halpin. The first instalment ended in a goal-less draw but this time the fans enjoyed a six-goal thriller. Gladman took the lead but Halpin equalised with a fine shot on the run as he sliced through the centre of the Gladman defence. But Gladman was to better that goal when he took the lead seconds before half-time. Playing a corner from the right he smashed the moving ball into the far corner of the net from an acute angle. Spurred on by this he maintained good possession in the second period and scored twice from opportunities created. Halpin's hopes were raised when he took advantage of Gladman's spare 'keeper losing the ball. But it was too little too late.
Next was a Woodend Handicap Cup encounter between Malcolm Lees and Ronnie McKenzie. McKenzie started with a two-goal advantage. Not long into the game Lees reduced the deficit to 2-1. Then Lees thought he had drawn level but the referee had spotted a free-kick, the attacking player just clipping one of his own players before shooting for goal. McKenzie's hard work paid off as he equalised on the night to restore his two-goal cushion. But it was Lees who won out in the end as he scored three further goals without reply to win 4-3. There was a little controversy surrounding one of those goals when Lees, after an infringement by McKenzie, chose to play on and immediately fired home without McKenzie having time to react. Lees, however, was within his rights to do this. McKenzie has had good long periods of possession in many games this season. With the two-goal start it would have been ideal to employ this tactic but he never really did get command of the ball and Lees was able to score four goals.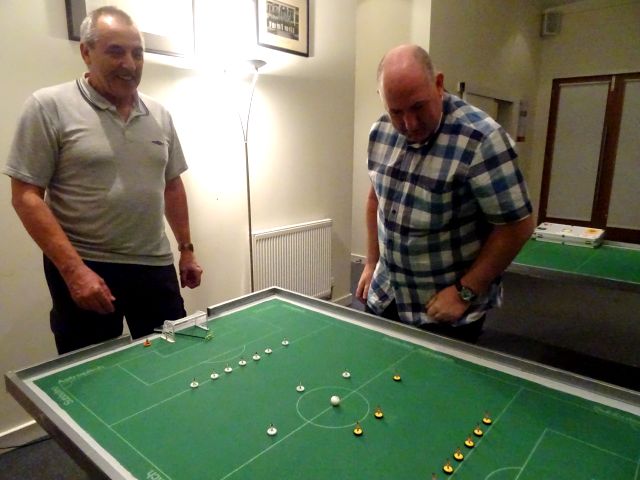 Tom Burns finished fourth at the weekend's Scottish Circuit 3 but he had lost his last two league matches at the club. He very nearly suffered a third defeat tonight but two goals in the last three minutes against Dave Gladman secured a win which he didn't look like getting. Gladman played to his strengths in this match controlling the game with his short passing possession but it was a quick move on the stroke of half-time which put him ahead in this match. The second half continued in the same vein with Burns tending to rush his play when he did get possession. But Gladman in his quest to keep hold of the ball allowed his defence to get out of position. At last Burns was able to exploit a gap and score from a central position. With less than three minutes remaining the likelihood was that Gladman would not allow Burns another chance. But he gave away a careless free kick on the half-way line. As Burns played the ball forward Gladman still had the chance to snuff out a scoring chance but his block flick was poor and Burns pounced.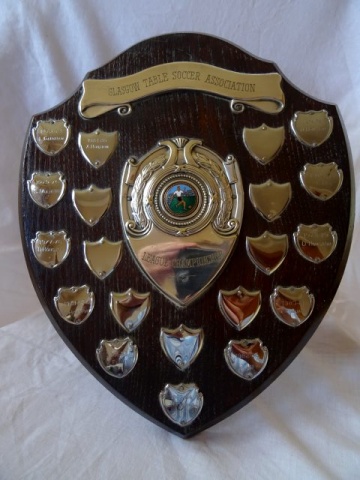 Tom Burns, therefore, has lost his league title to Malcolm Lees and in all probability he will be pushed into third place by Wille Fleming. Burns failed to defeat either of those players and that was a factor in his demise but of more significance was the unexpected loss of points to players further down the league. It is worth comparing Burns' goals record this season with that of last year's. There is little difference in the goals scored average but the goals conceded average has increased.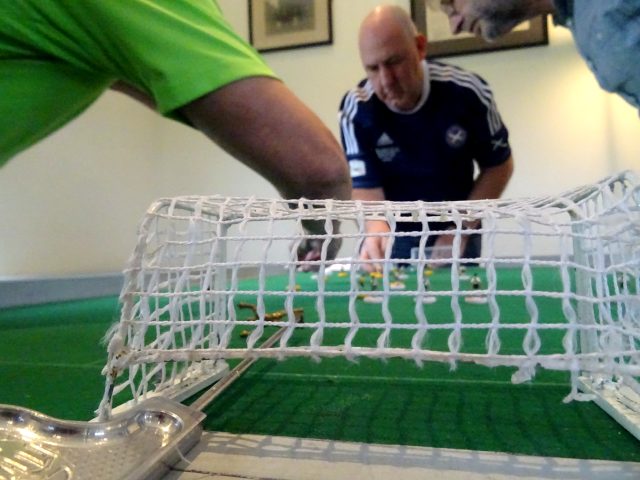 Once again Dave Gladman has failed to challenge at the top of the league. He was undefeated to both Malcolm Lees and Willie Fleming and only lost in the dying seconds this evening to Tom Burns. There have been ten draws in his league campaign. Gladman dominates possession in most of the games he plays but often he cannot convert that possession into goals. In part this is due to a poor shots to goals ratio but also because of a lack of opportunities created. Time for a change of tactics?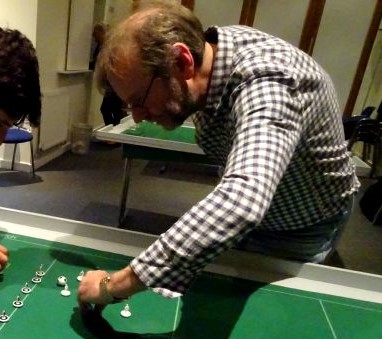 League
Association Cup
Woodend Handicap Cup
r