Seven players attended the second night of the season with Dave Houston beginning his league campaign. Five of the seven players had played in the first Scottish Circuit the previous day in Monifieth, when Tom Burns and John Halpin had finished second and fourth respectively.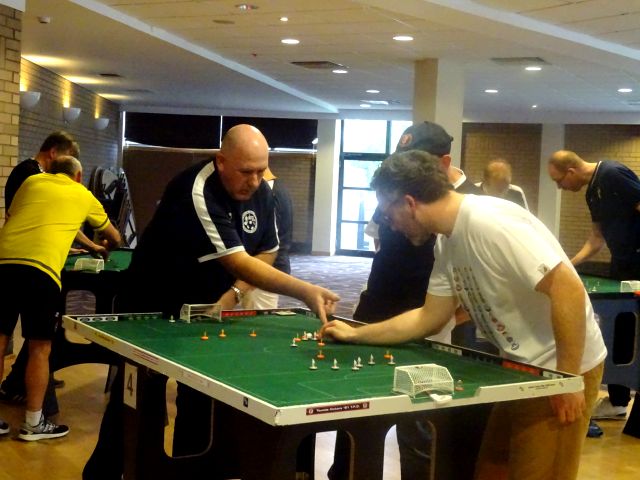 John Mathieson also had done well in Monifeith, recording a 5-0 win against fellow newcomer, Dave Minty and a 1-1 draw with Dave Gladman. Tonight he was again pitched against Gladman and once again performed well. It took Gladman until the beginning of the second half to take the lead and that was to be the end of the scoring. Mathieson had to absorb a lot of pressure but he block flicked well, had good possession and created a couple of good opportunities. But Mathieson didn't have to wait long to get his first point on the board. Dave Houston often switches his team and tonight he elected to play with flats. He had only scored 8 goals in his league campaign last season and after his first three games tonight he is yet to find the net. After the goal-less draw with Mathieson they each had a point to their credit.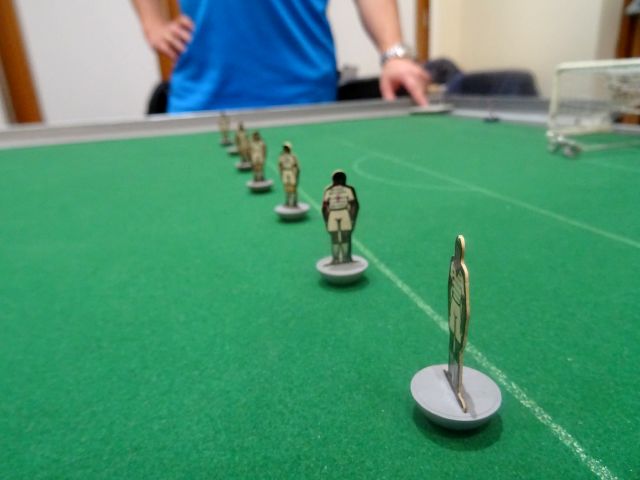 Houston is a difficult opponent and playing against flats makes the opponent think differently about positional play. Houston was level with John Halpin at half-time but conceded three second half goals after Halpin had finally got the measure of the flats. In Houston's third match against Tom Burns he successfully limited his opponent's opportunities whilst creating a couple of chances himself. In the end it was a narrow but deserved win for Burns.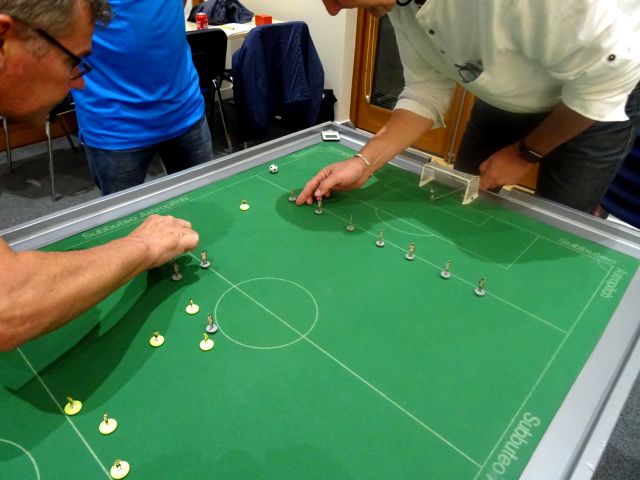 The evening proved a bit of a hangover for Burns after the previous day's exploits as he dropped five points from his three matches. The first crucial encounter was against Malcolm Lees. Earlier in the evening Lees had defeated Barry Corr 4-2. Corr had competed well but at 2-2 had lost his way a bit and allowed Lees to get the victory. Against Burns Lees broke the deadlock early in the first half. It was a determined Burns who then made all the running but he could not find the net. When Lees made it 2-0 after the break things were looking bleak for Burns. Burns, however, did not change tactics as he powered forward even more and was rewarded with two goals which brought him level. It was a strategy full of risk but Lees was not able to exploit the sometimes large gaps in the Burns' defence. Even at 2-2 Burns was still fully committed to attack but there were no more goals. Burns second match was against Dave Gladman. Gladman employed his usual tactics against Burns – keep the ball and frustrate the opponent and tonight it proved effective. Most of his play was careful and measured but it was a lightning thrust through the centre of the Burns defence that brought Gladman his goal in the first half. After that it was a case of keep possession. But in fact Burns probably had more possession and more opportunities than he usually has against Gladman. He could have scored, he would say should have scored but finally, he was left frustrated.
Is Gladman a contender for the title? After four games in which he has played Lees, Burns and Corr he has emerged with 8 points and no goals conceded. There's no doubt that he can take points from the top players. But perhaps more indicative was his 1-0 victory over John Mathieson. Mathieson is a rapidly improving player but Gladman should really be winning such a match comfortably. Last season he could average scoring only one goal per game and half his games were drawn. He has lots of possession in a match but can't translate that possession into goals.
Burns still leads the league (click here) on 10 points with Gladman second on 8.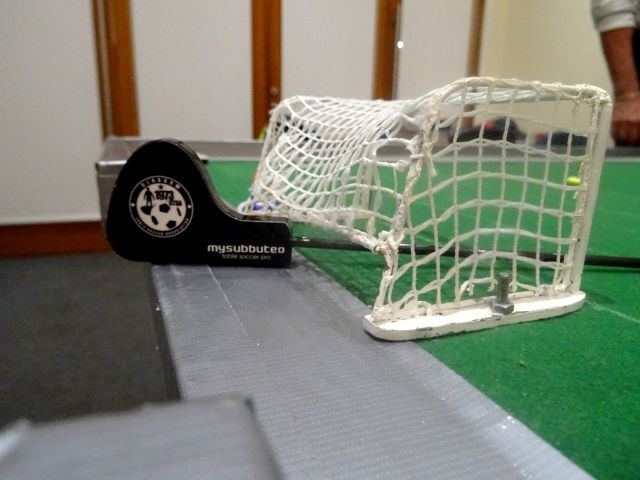 Results
| | | | |
| --- | --- | --- | --- |
| Lees | 4 | 2 | Corr |
| Gladman | 1 | 0 | Mathieson |
| Houston | 0 | 3 | Halpin |
| Burns | 2 | 2 | Lees |
| Houston | 0 | 0 | Mathieson |
| Gladman | 1 | 0 | Burns |
| Burns | 1 | 0 | Houston |
e