Dave Houston moved off the bottom of the table thanks to his first league win of the season. Inevitably it was a low scoring match and decided by a single goal. Houston has only scored three league goals. Ronnie McKenzie had the honour of being the first player to lose to Houston. It was a slow-paced game with few opportunities but there was no doubting the quality of the Houston strike.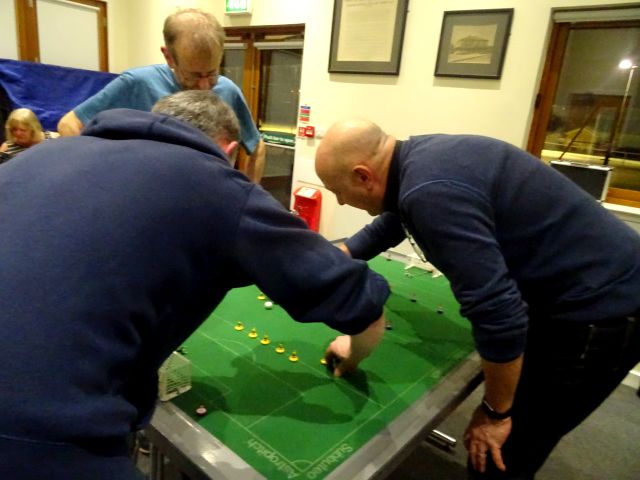 Ronnie McKenzie, however, did have a fine win over Barry Corr. After leading 3-0 he hanging on a little at the end as Corr pulled it back to 3-2. McKenzie continues his rise up the table as he catches up on matches. For Corr it was a disappointing evening after earlier drawing 0-0 with Dave Gladman. Gladman dominated the first half with Corr coming into it in the second but neither player could find the net.
Malcolm Lees closed in on Tom Burns at the top of the league but he had to work hard to overcome John Halpin with a 3-2 win. Lees is two points adrift but with a game in hand.
Two cup matches were played. In the Handicap Cup Ronnie McKenzie started two goals ahead of Tom Burns and when McKenzie opened the scoring the task for Burns looked very difficult indeed. Burns had to be even more cavalier than usual and McKenzie was able to score again on the break. McKenzie marches into Round 2.
In the remaining Glasgow Cup quarter final Dave Houston and Dave Gladman fought out a 0-0 draw, their second of the season. This time it was Houston who had the better of the match but they will have to do it all again.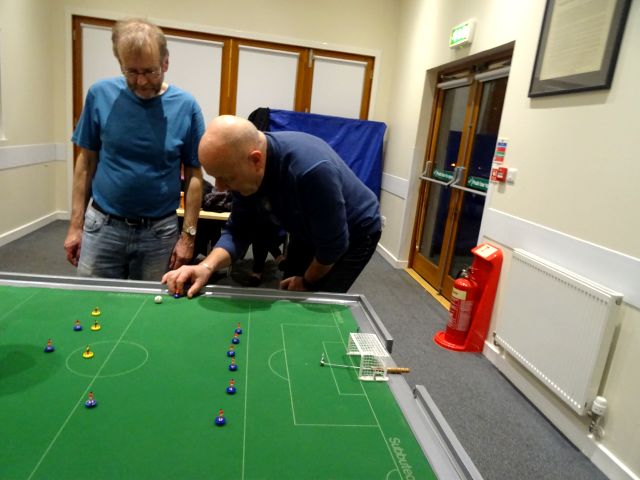 League
| | | | |
| --- | --- | --- | --- |
| Gladman | 0 | 0 | Corr |
| R McKenzie | 3 | 2 | Corr |
| Halpin | 2 | 3 | Lees |
| Houston | 1 | 0 | R McKenzie |
Glasgow Cup
Woodend Handicap Cup