In the absence of Tom Burns, Malcolm Lees moved six points closer to the top spot. He now lies five points behind Burns but with two games in hand. The two players have yet to meet a second time. It could well be a league decider. Lees started with a 5-1 defeat of Baver Bari. Bari did create a number of chances in this match but couldn't score at a time when it could have put pressure on Lees. His goal, coming when he was four goals behind, only gave him consolation. Last time out Bari had drawn with Lees but on this occasion Lees had no problem with his finishing.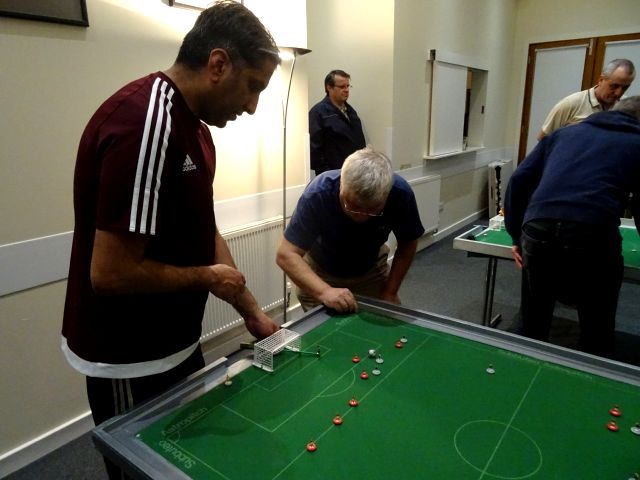 Lees had more difficulty in his second match, this time against Ronnie McKenzie. McKenzie has been in fine form recently and has moved up to fourth in the league. Trailing 1-0 at half-time, McKenzie was able to level not long into the second half but only held that lead for a couple of minutes. McKenzie enjoyed much of the possession, indeed this has been his strength lately and he will be disappointed not to have got a share of the points.
Earlier McKenzie played out a 0-0 draw with old rival Colin Berry. Berry had the better of the first half but it was McKenzie who dominated the second and should have clinched it with a golden opportunity near the end. McKenzie's best performance, however, was a fine 3-0 win over John Halpin. This season only Tom Burns has managed to beat Halpin by such a margin.
One Woodend Handicap Cup match was also played. Dave Gladman started with a two-goal advantage over Malcolm Lees and when Gladman scored after only two minutes it was to be an uphill task for Lees. Gladman maintained possession for much of the time and it was well into the second half before Lees pulled a goal back. Gladman will now play either Barry Corr or Baver Bari in the quater-finals.
League
| | | | |
| --- | --- | --- | --- |
| Berry | 0 | 0 | R McKenzie |
| Lees | 5 | 1 | Bari |
| Halpin | 0 | 3 | R McKenzie |
| R McKenzie | 1 | 2 | Lees |
Woodend Handicap Cup