The first club night of 2020 saw four league games take place and also the welcome return of former club member, Andy Shearer (pictured below) on holiday from New Zealand. The league games saw Baver Baver try to gain revenge over Colin Berry for his previous last second defeat in their previous fixture. After an exciting end-to-end affair, it finished 1-1, with both goals coming in the first half. Either player could have won but some good Berry goalkeeping kept Bari from finding the winner.
Tom Burns then extended his pole position in the league with a win over Brian Spoors. Three goals in the first half ended any chance of an upset. The first alternative old firm derby for a few years between arch rivals Colin Berry and Ronnie McKenzie produced the major talking points of the night. The game started off at a frantic pace with Berry making his intentions clear by hitting both crossbar and post in the first ten minutes. Indeed it was Berry who landed the first blow with a well taken goal midway through the first half. Although Berry dominated the first half, it was McKenzie who took control of the second. With five minutes to go Berry failed to take a chance to make it 2-0. This was to prove costly as McKenzie scored with the last touch of the game. A speculative long shot took an eternity to find the back of the net. Even although the ball crossed the line well after the final whistle had gone, crucially, McKenzie had flicked before the buzzer had sounded. The players had to settle for a 1-1 draw. Berry has improved significantly this year and and is now just one point short of last season's total.
The final game of the evening saw Burns and McKenzie play out a ding dong match with chances galore. It was McKenzie who got karma, losing a goal in the last thirty seconds to go down 1-0. His fine play, however, will surely produce more positive results as the season progresses.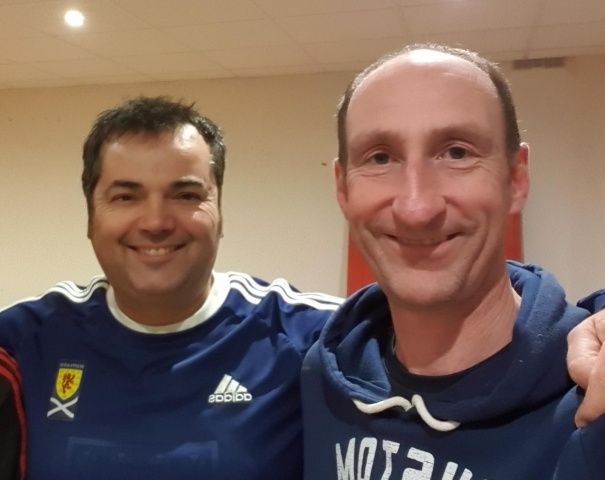 League
| | | | |
| --- | --- | --- | --- |
| Berry | 1 | 1 | Bari |
| Burns | 4 | 0 | Spoors |
| Berry | 1 | 1 | McKenzie |
| Burns | 1 | 0 | McKenzie |
The league table can be viewed here.