On a wet and windy night only five players braved the conditions to play. Four cup matches were played.
First up was a preliminary round match in the Handicap Cup. Dave Gladman started a goal to the good against Dave Butler. Gladman's strategy was clear from the start – keep possession. In the first half he did this pretty well, limiting Butler to one really good opportunity. Butler had much more of the ball in the second period and probably feels that he should have taken one of the two or three excellent chances he had. The Gladman goal survived, however, and he progresses to the next round where he will start his match against Brian Spoors with a four-goal deficit.
All the other matches were in the Glasgow Cup. Ryan McPhail played his first matches in Group A, against Dave Gladman and Baver Bari, players expected to finish in the top two places in the group. In the first match he demonstrated the improvement he has made in defensive skills losing only 1-0 to Baver Bari. In the second he proved that he knew something about attacking as well, taking a shock 2-0 half-time lead over Dave Gladman. Gladman is undefeated in league and cup this season and he was fresh from his Handicap Cup victory over Dave Butler. That record remains intact, however, as he scored two second half goals to secure a point which ensures that he finishes top of the group. McPhail, on the other hand, is starting to compete well and can be pleased with how his play is progressing.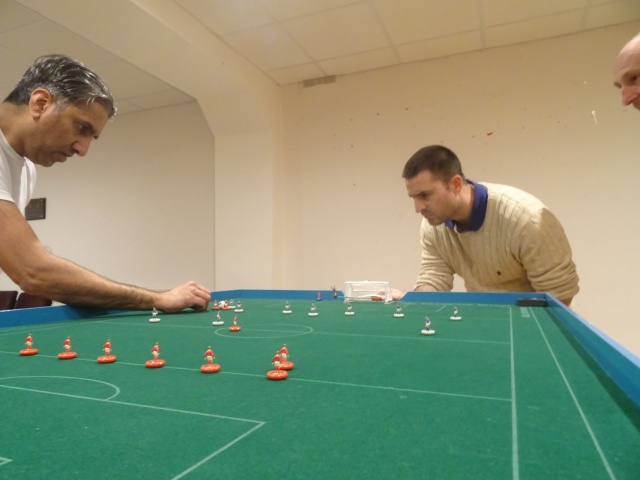 In Group B Dave Butler had a comfortable 3-0 win over Colin Berry. Butler scored in his first attack . Berry was never allowed to settle, his defence put under long periods of pressure for much of the game. After losing a goal so early he did well to resist the repeated waves of attack and limit Butler to two further goals. Butler moves to the top of Group B, ahead of Tom Burns on goal difference.
Handicap Cup
Preliminary Round
Glasgow Cup
| | | | |
| --- | --- | --- | --- |
| Bari | 1 | 0 | McPhail |
| Gladman | 2 | 2 | McPhail |
| Butler | 3 | 0 | Berry |
Glasgow Cup results and tables can be viewed here.