After the near full attendance last week, only six players turned up to play this evening. In their first league meeting earlier in the season Tom Burns beat John Halpin 4-0. But Halpin is a much tougher proposition now and he made Burns work hard for his 2-0 victory only sealing the win with a final minute goal. That Halpin is the most improved club player this season was further confirmed in his match against Dave Butler. It was into the second half before the league champion made the breakthrough. Two 2-0 defeats for Halpin but with both matches being against the club's top two players, it's a good measure of Halpin's progress.
With Dave Butler only playing one league match Tom Burns moved further ahead in the title race. In a first half which was littered with mistakes from both players Burns could manage only one shot on goal. Neither player was at his best but Burns did improve in the second period and was able to twice find the net.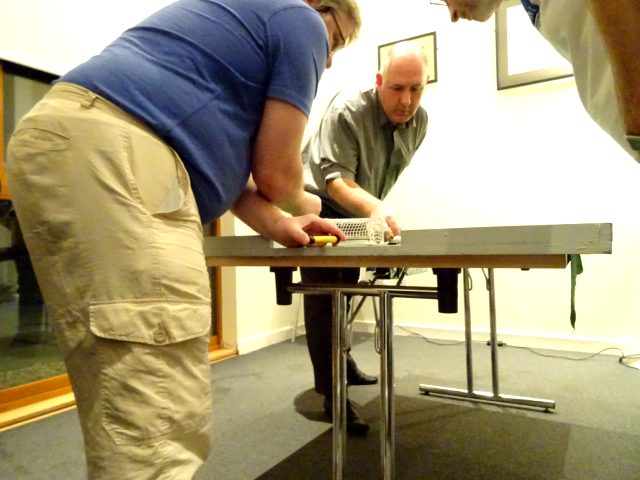 Baver Bari had beaten Dave Gladman in their two previous encounters. In the first half Gladman scorned several opportunities but the best chance fell to Bari who shot wide with an open goal gaping. Gladman controlled most of the second half maintaining possession for long periods and finally managing to convert two shots.
In Group B of the Glasgow Cup Dave Butler beat Dave Gladman 3-0. It was a fairly even first half but Butler led courtesy of a very fine goal. It looked as if Butler was about to lose possession but a superb long pick-up set him up perfectly to chip in from an acute angle. At the beginning of the second half Gladman held possession for about five or six minutes but despite forcing two corners his play wasn't quick enough to create clear opportunities. Butler, on the other hand, had no such difficulties and was able to carve out two further quality goals. Gladman has now played all his group matches and must wait for other results to see if he will qualify for the semi-finals.
League
| | | | |
| --- | --- | --- | --- |
| Halpin | 0 | 2 | Burns |
| Butler | 2 | 0 | Halpin |
| Gladman | 2 | 0 | Bari |
| Burns | 2 | 0 | Day |
Glasgow Cup