It proved to be a very successful tournament for Glasgow's Tom Burns. He reached the semi-final in the Veteran Category without losing a single goal. Daniel Scheen, World number 3 ended the Burns' challenge. Here is his report:
'My group was Rudi Peterschinnig (London Essex), Brett Price (Kent Invicta), Darren Barnes (Cardiff) and me. First match was against Brett Price and although I had the lion's share of possession, goals proved hard to come by, but I did eventually score late in the half. The second half was similar this time I managed two goals. The other two players in the group fought out a 2-2 draw and so this gave me an early lead in the group. In the next match it was my opponent, Rudi Peterschinnig who had long spells of control but good defending limited his opportunities. I scored midway through the first half but against the run of play. The second half was a more even affair and I added a second to put me well in control of the group.'
With Rudi Peterschinnig
'I went into the last match against Darren Barnes knowing a defeat would still get me through but a draw or better and I would top the group. I played a good match and controlled it for long spells, eventually getting the only goal of the game midway through the second half. It was a goal that was to knock Darren out as Rudi had racked up a bigger win against Brett.'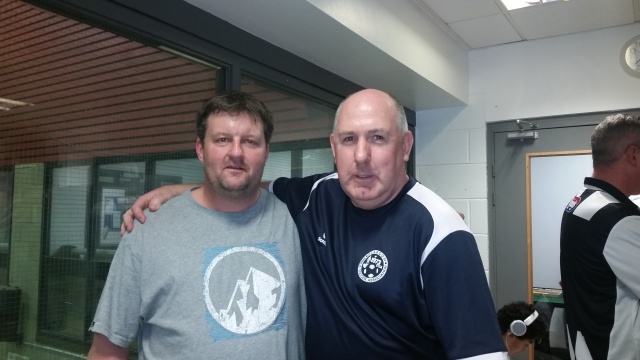 With Darren Barnes
'I went into the Barrage and came up against Andy Boyer (Yorkshire Phoenix) who I had never played before. This time the goals flowed and I ran out a comfortable 5-0 winner. Then I had a step into the unknown against Spaniard, Julio Candelas. The match was a fairly even affair and I more than held my own, scoring late in the first half. The second half was similar but I had two or three gilt edged chances to finish it. As it was one goal proved sufficient.'
With Julio Candelas
'It was on to the semis where I came up against Daniel Scheen, a player with whom I struggled with in our two previous meetings. I took an early lead in the match but after five minutes he equalised. He then produced three good finishes to lead 4-1 at half-time. I had a decent second half where I created a few chances and managed another goal but went down 6-2. The other semi-final was between Brian Daley and Luis Mendez with Mendez victorious. In the final Daniel Scheen edged out Mendez 3-2.'
Daniel Scheen, Veteran Champion
'In the Open Category another Scot was doing well too. Steve Bennett produced some excellent performances to take the title beating Paulo Gouveia 3-1 in the final. All round it was a very good day for our country as there were some quality players on show.'
Steve Bennett, Open champion
Team Event
Tom Burns was GTSA's only representative in the tournament and therefore GTSA did not compete in the Sunday event. Tayside, however, had a team of Steve Bennett, Andy Beskaby, Rob Conway and Paul Andreas. They performed admirably winning their group and qualifying for the semi-finals. There they lost to Yorkshire Phoenix who in turn went on to lose the final to London Essex, a team which Tayside had beaten in their group.
Team Champions, London Essex United