The nine teams were drawn into 3 groups with Perugia, Athinaikos and London Essex seeded. Glasgow A found themselves in an extremely tough group with Perugia and Yorkshire Phoenix A. The Perugia team consisted of the de Francescos, fresh from their victories on Saturday as well as experienced campaigner Bob Varney and former Hot Club d'Ecosse stalwart Mike Burns. Yorkshire are popular visitors to Scotland and indeed were victorious in last year's Glasgow International Open. Turning out for Glasgow were Tom Burns, Barry Corr, Colin Day and Dave Gladman. Against Perugia Glasgow suffered a 4-0 defeat then went on to lose 3-0 to Yorkshire. Colin Day managed a draw against Martin Hodds (Veteran finalist the day before) and Tom Burns and Dave Gladman both lost by a single goal. Perugia proved too strong for Yorkshire, winning the group with a 3-1 victory.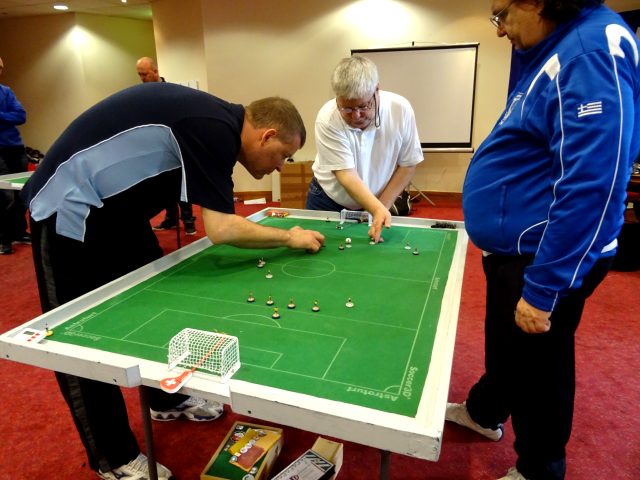 In group 2 Athinaikos were in firm control winning both their matches against Dundee United B and Yorkshire B 4-0. Only Tony McCann of Yorkshire was able to score against the Greeks as he lost 5-2 to Dimitris Kosmopoulos. It was Yorkshire who qualified for the barrage, overcoming the Taysiders 2-1.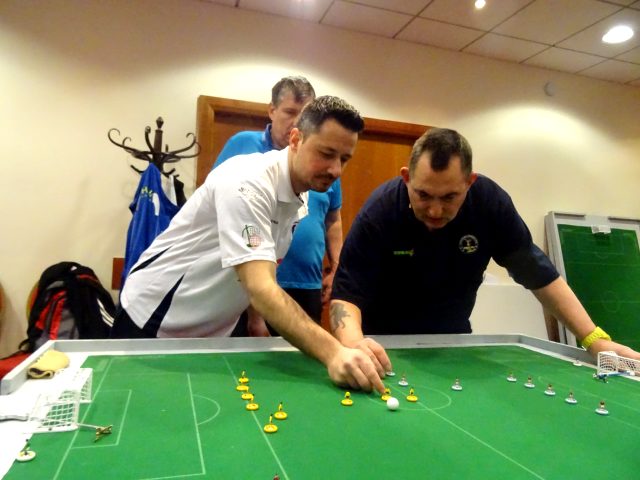 Glasgow B were also in a tough group. The seeded team was London Essex, ranked 27 in the world. Dundee United A made up the group. They had Scotland's number 1, 2 and 4 players in their team. Glasgow B were represented by Colin Berry, John Halpin, Fraser McKenzie and Ronnie McKenzie and they lost both their matches, 4-0 to London Essex but only 2-0 to Dundee A. Ronnie Mckenzie drew with Greg Dand and John Halpin with Dave Baxter. But it was Dundee United A who won the group with a shock 4-0 win over London Essex.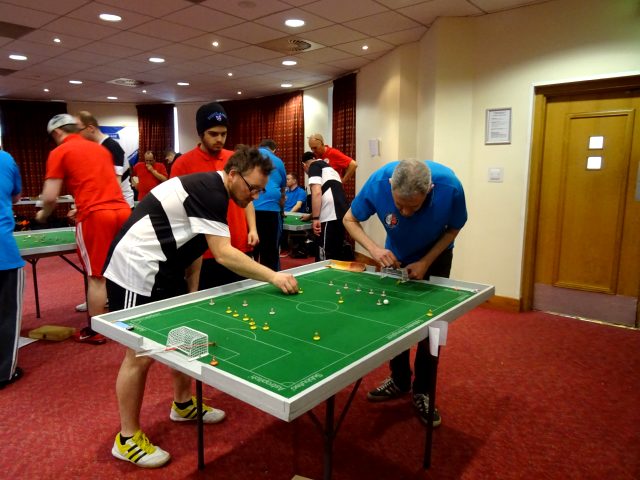 In the barrage London Essex swept past Yorkshire B but the Yorkshire A – Dundee United A match was a closely contested affair, the Scots winning 2-1. This was revenge for their loss to Yorkshire in the final of last year's International Open. If anything the Yorkshire team was stronger this year with the inclusion of Brian Daley but it was the match between Daley and Steve Bennett which was to prove decisive, with Bennett scoring at the death to win 2-1.
Both semi-finals were close. Athinaikos beat Dundee United 2-1. Bennett defeated Panos Aliadis and Gareth Christie drew with the new Open Champion, Kostas Sesses 0-0 but the Greeks won the other two matches. In the other semi London Essex had a fine 2-1 victory over Perugia. The key match was between Mike Burns and Nick Maclochlainn. Burns led 1-0 at half-time but London Essex substituted Elliot Bellefontaine who came on to score a second half equaliser which turned the tie.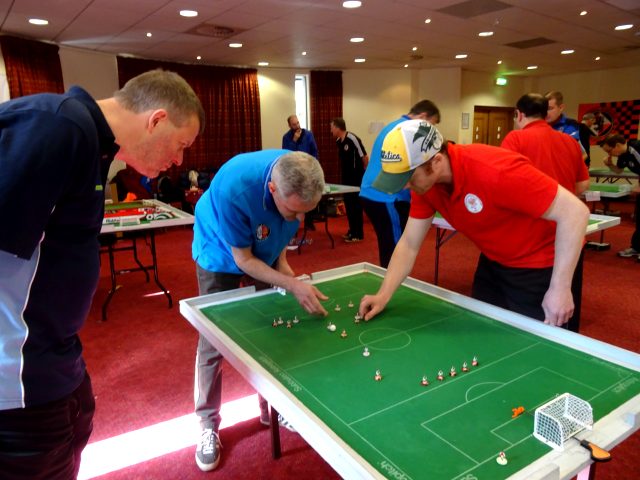 The final was also an exciting match and ended 2-2 with Athinaikos winning on goal difference. Dave Pawsey and Kevin Cordell both won their matches by a single goal but it was the comfortable victories of Kostas Sesses and Dimitris Kosmopoulos which made the difference.
Glasgow A were winners of the Plate. In a round robin of matches they defeated Dundee U B 3-0 and Glasgow B 4-0. Glasgow B were 2-0 winners over Dundee U B.
Photo Gallery
%%wppa%%
%%slide=28%%