England's top competition of the season was held at the 44Two Sports and Social Club, Gillingham over the weekend 18/19 July. There was a big entry list with 75 taking part in the individual events on the Saturday and 12 teams on the Sunday. Tom Burns, Dave Gladman and John Halpin were there on the Saturday to compete in the Veteran individual competition and they were joined by Dave Butler on the Sunday for the team event. Scotland were also represented by Dundee United TFC.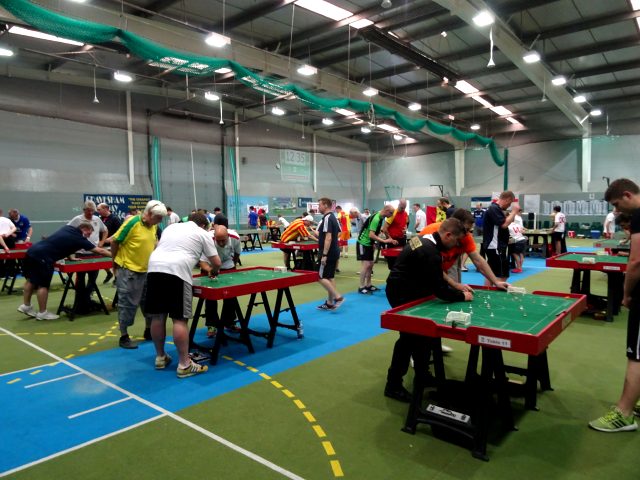 Individual Events
The Veteran event comprised 7 groups of 4 and one of 5. Neither Tom Burns nor John Halpin progressed beyond the group stage. Burns was drawn in the group of 5 which included Olivier Pere, Dave Pawsey and Darren Barnes. Halpin found himself alongside number 1 seed Lucio Cannichio of Italy in his group. Each Glasgow player managed one win but were defeated in their other matches. Dundee United's Rob Conway and Andy Beskaby also were unable to qualify.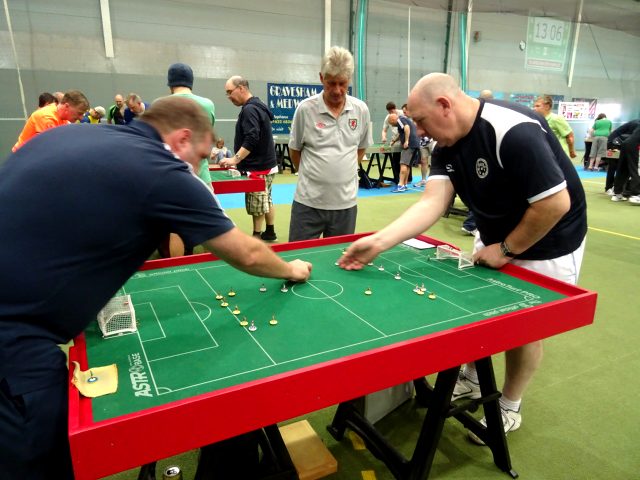 Good fortune, however, befell Dave Gladman. One of his group, Dave Samuel of Wales, withdrew just before the competition began. A 1-0 victory over Rudi Peterschinnigg and a draw against Tony McCann were enough for Gladman to win the group and go to the last 16. There he faced Australian, Bob Green. No goals were scored in normal time or indeed after extra-time and so the game went to shots. Gladman won 3-2. So to the quarter-final where Gladman's opposition was Martin Hodds. Gladman played well in the first half and kept the score at 0-0 but Hodds stepped up in the second period to run out 2-0 winner.
Burns and Halpin went on to play in the Plate. Burns defeated Colin Tarry but then lost 3-2 to Dundee's Rob Conway. Two victories saw Halpin reach the semi-final where his opponent was Tony McCann. Two goals down at half-time, Halpin came back to draw 2-2 and force a shoot-out. In the previous round Halpin had beaten Darren Barnes on shots but this time he was unlucky, just failing to reach the final.
The Veteran competition was won by Justin Finch, beating Lucio Cannichio 1-0 in the final.
Steve Bennett was Scotland's only representative in the Open category. He qualified out of his group and reached the quarter-final where he lost 3-1. The Open was won by Belgian David Vantassel.
Team Event
The 12 teams were drawn into 3 groups of 4. The winner of group 3 along with the runners-up in all groups would play in a barrage to decide who would join the winners of groups 1 and 2 in the semi-finals. Glasgow were drawn in group 3 along with seeded Yorkshire, Kent A and Cardiff B. First up for Glasgow was Yorkshire and a famous victory was recorded, 3-0. Dave Butler beat Ben Staples 6-0, Tom Burns beat Paul Lawrenson 3-0, John Halpin beat Tony McCann/Luca Martinelli 3-1 and Dave Gladman drew 0-0 with Martin Hodds. There followed a disappointing 3-1 loss to Kent. Dave Butler managed a victory but the others all lost. A victory over Cardiff B was needed to finish runners-up and the team stood up to the plate with a 4-0 victory. The reward in the barrage was a match against Belgians SC Eugies. But it was a match which Glasgow lost 3-0. Dave Butler again did well (3 wins in his previous matches) and achieved a draw. Dundee United TFC also finished runners-up in their group but they won their barrage match to reach the semi-final where they lost to London and Essex. The competition was won by Belgian club AS Hennuyer who defeated London Essex 3-1 in the final.
%%wppa%%
%%slide=33%%
Trophy winners: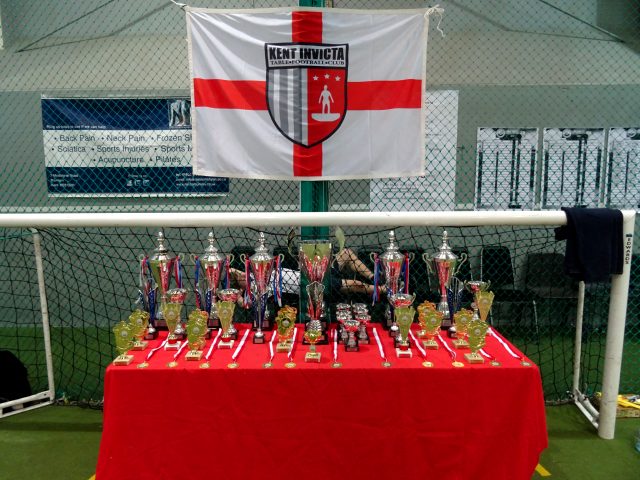 Open:
David Vantassel BEL/ASH 2-1 Remi Soret FRA/ASH
Veterans:
Justin Finch ENG/VAL 1-0 Lucio Canicchio ITA/FIA
U19:
1st Steffen Despretz BEL/HEN / 2nd Elliott Bellefontaine ENG/LEU
U15:
Corentin Bouchez BEL/EUG 2-1 Kye Arnold ENG/KIV
U12:
Joseph Kinrade ENG/KIV 2-0 Thomas Price ENG/KIV
Open WASPA Plate:
Ralf Gregorie BEL/EUG 4-2 Ben Staples ENG/YOR
Veterans WASPA Plate:
Thomas Vulpes GER/RAI 1-0 Tony McCann ENG/YOR
U15 WASPA Plate:
Rhys Williams ENG/KIV 4-1 Louis Singh ENG/KIV
U12 WASPA Plate:
Conor Atkin ENG/KIV 1-0 Flynn Barnes WAL/CAR
Teams:
AS Hennuyer BEL 3-1 London & Essex Utd 'A' ENG
Team Plate:
London & Essex Utd 'B' ENG 4-0 Cardiff 'A' WAL
Sunday Junior WASPA:
1st Thomas Lacey ENG/KIV / 2nd Dylan Staples ENG/YOR
Sportsmanship Award:
Gabriele Silveri ITA/FIA
GTSA congratulates the English Subbuteo Association and Kent Invicta TFC on a very enjoyable and well-run tournament!