Tonight it was the Glasgow Cup which took centre stage with six matches being played, two in Group A and four in Group B.
In Group A, Baver Bari got off to a bad start against Malcolm Lees. It's not often that Bari will get the better of Lees and this was no exception. Bari had lost six goals against Lees in the league and this loss was to be repeated tonight. This time Lees did concede one goal. If Bari was lacking belief against Lees, he had much more of it in his match with Willie Fleming. But it was still no points gained as he unluckily lost to Fleming by the only goal of the game. Bari must now win both his remaining matches if he is to have any chance of qualifying.
In Group B, Tom Burns ensured qualification with two further wins in the competition. The matches were won in style as he crushed both John Halpin and Colin Berry with five goals. Halpin will be particulary disappointed since his recent matches with Burns have been close encounters. Berry has been pretty competitive in most of his matches this season and has become a dfficult player to beat. But he is just not able to do this against Burns. In his second Glasgow Cup match Berry lost narrowly to Dave Gladman. Despite having most of the pressure Gladman could not add to his single goal and Berry came very close to an equaliser in the closing stages. Gladman took a big step towards qualification with a 2-0 defeat of John Halpin. Halpin might feel that his goalkeeper could have done more to stop the goals but Gladman did have the bulk of the play in this match and kept possession well.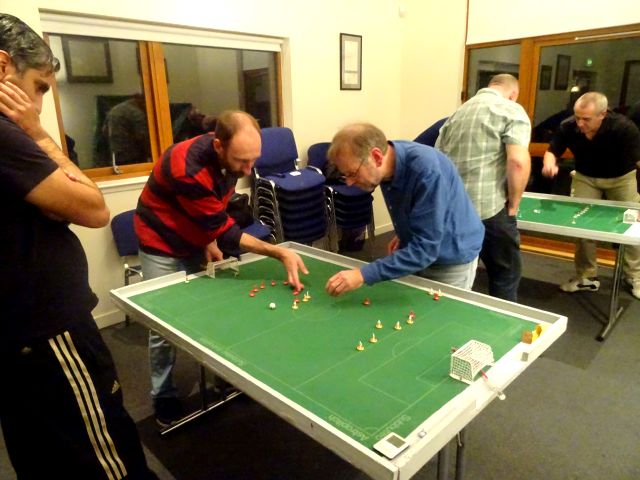 While the Glasgow Cup was being played Dave Houston was able to catch up with a couple of league matches. It must be at least thirty years since Houston had played Malcolm Lees but this fixture was played out again tonight. It was a convincing win in the end for Lees but Houston contributed much to the game. At 3-1 down he missed a fine chance to reduce the deficit but as the chance was scorned, Lees moved up the park to finish the game 4-1.  In his second match, Houston shared the points with Colin Berry. Houston took the lead but Berry immediately responded to draw level. After the heavy defeats which both players suffered earlier in the evening they were content to play out a 1-1 draw. Both players moved up one place in the league table.
Glasgow Cup
Group A
| | | | |
| --- | --- | --- | --- |
| Lees | 6 | 1 | Bari |
| Bari | 0 | 1 | Fleming |
Group B
| | | | |
| --- | --- | --- | --- |
| Burns | 5 | 1 | Halpin |
| Gladman | 1 | 0 | Berry |
| Berry | 0 | 5 | Burns |
| Halpin | 0 | 2 | Gladman |
League
| | | | |
| --- | --- | --- | --- |
| Lees | 4 | 1 | Houston |
| Houston | 1 | 1 | Berry |
e