A full GTSA team of Tom Burns, Dave Gladman, John Halpin and Malcolm Lees headed south for this 2-day event in Heckmondwicke, Yorkshire. There was a large Scottish participation with one quarter of entries to the Open and Veteran categories being STFA members.
It was to be an excellent Saturday for Tom Burns, qualifying second in his group to earn a quarter final place against Italian Marco Ghigliotti. A stunning 5-1 victory saw Burns set up a semi-final clash with Steve Bennett. This was to be the closest Burns has come to overcoming the Scottish champion. Bennett took the lead but Burns pegged him back only to lose a goal two minutes from the end. Burns had the chances to get the winner himself but it was not to be.
Dave Gladman also qualified in second place and this set up a place in the barrage against Colin Tarry. The game finished 1-1 and with no goal scored in extra-time the tie went to shots. Gladman was unable to find the net with any of his efforts and a single goal was enough to put Tarry through.
Although neither John Halpin nor Malcolm Lees qualified out of their groups, both reached the semi-finals of the Plate, Halpin losing to DUTFC's Rob Conway and Lees losing to Brian Daley of Yorkshire.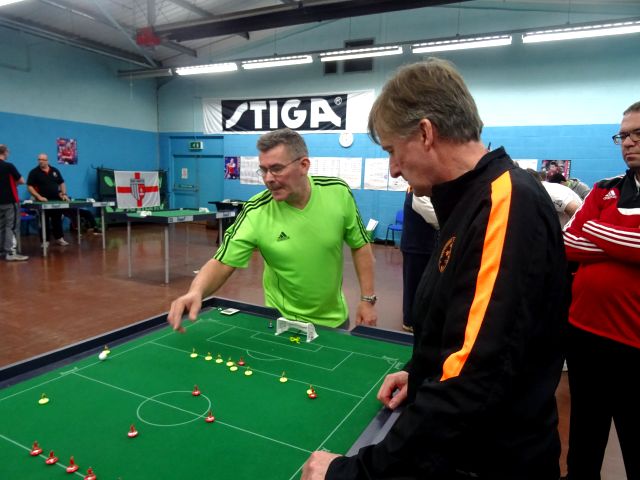 In an all Scottish Vet final Steve Bennet got the better of Dave Baxter (Perugia) by 1-0. In the Open, Dave Pawsey was victorious over Elliot Bellefontaine but only after the game going to extra-time and Pawsey scoring a golden goal.
It was a tough draw for Glasgow in Sunday's Team Event where the opponents were London Essex, GSCDC (Glide, Slide, Chip and Dip Club) and Yorkshire B. Glasgow were narrowly beaten 1-0 by London. Three matches ended in draws so a victory was very close. Against GSCDC GTSA were dismantled in all matches as they lost 4-0. Pride was restored with a 3-1 win over Yorkshire B.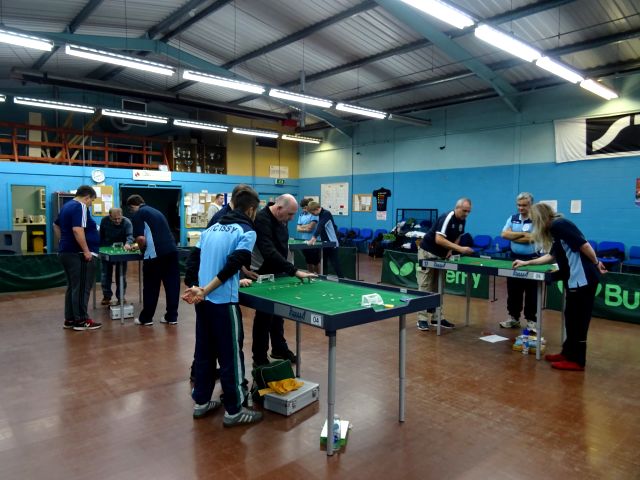 DUTFC had a very successful day, winning their group then beating London Essex in the semi-final with an extra-time golden goal scored by Steve Bennett. It was a tough ask in the final against GSCDC but a 2-1 scoreline reflected a great effort.
The competition was featured on BBC News.
Congratulations and thanks are also due to Yorkshire Phoenix for a very well-organised and enjoyable tournament!
More pictures from the weekend:
%%wppa%%
%%slide=37%%