Tom Burns returned to the top of the league tonight, two points ahead of Malcolm Lees but having played a game more. Burns' game against Baver Bari has a convincing scoreline of 7-2. But Bari twice led in this match. He was ahead 2-1 with only a couple of minutes remaining of the first half but two quick goals by Burns turned this game. If Bari had held his lead until the break the outcome might have been different. As it was Burns started the second half in confident mood, Bari lost focus and fell apart. With Lees not playing tonight the win was enough for Burns to go top.
Baver Bari had earlier lost out to John Halpin by 3-0. Bari gifted two of the goals to his opponent by twice losing possession with his kicking goalkeeper. He too often loses his way through lack of concentration. Halpin, on the other hand, looks as if he may be a contender at the top of the table. He moves up to third and victory in his games in hand over Lees and Burns would see him go top.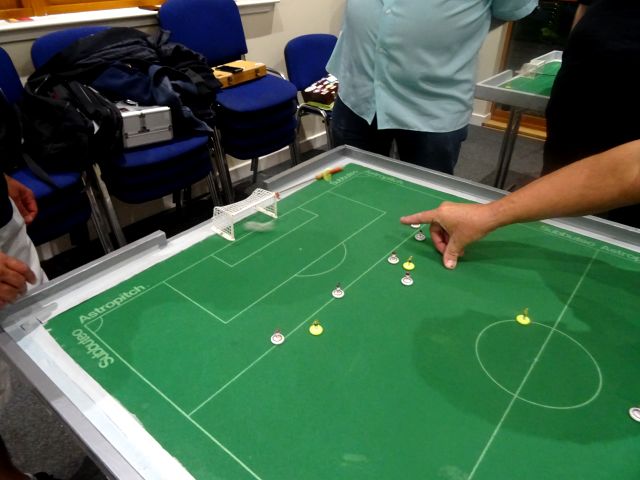 Barry Corr had his first league victories, grabbing six points. His first match was a tough contest against Colin Berry. It took until two minutes from the end for the deadlock to be broken by Corr. Corr had had a number of chances but was not able to take them. For Berry it was the final ball which let him down. Several opportunities were squandered as he couldn't quite set up clear chances. Corr had no such difficulties against John Mathieson. Mathieson has had some good results and performances since he began in the league but he had no answer to Corr tonight.
Berry did add another point to his total with a 0-0 draw with Dave Gladman. Gladman dominated possession and created numerous chances but poor shooting, the woodwork and the Berry goalkeeper prevented him finding the net. Berry was therefore always in the match but as in the Corr match couldn't quite fashion the chance which might have snatched victory.
League Results
| | | | |
| --- | --- | --- | --- |
| Bari | 0 | 3 | Halpin |
| Berry | 0 | 1 | Corr |
| Corr | 5 | 0 | Mathieson |
| Burns | 7 | 2 | Bari |
| Berry | 0 | 0 | Gladman |
The draw was made for the Glasgow Cup and full details can be found by clicking here.