Seven matches went ahead this evening, five in the league and two in the Glasgow Cup. It was the first appearance of the season for Ronnie McKenzie. He elected to play only in the Glasgow Cup where he was pitched against John Mathieson. It was a close match with McKenzie having most of the play. McKenzie did have the ball in the net but he hadn't noticed a player lying in an offside position. McKenzie's lack of match practice was to prove his undoing and it was Mathieson who broke the deadlock to notch up his second win of the season at the club.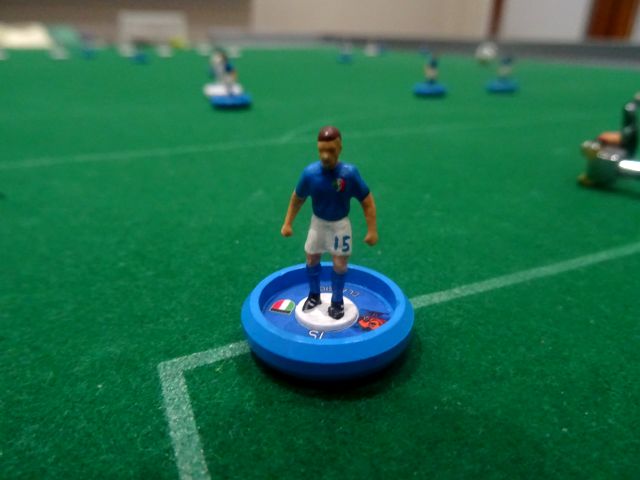 John Halpin has represented GTSA on a number of occasions over the last three seasons. It might have been argued that he had been making up team numbers over that period of time. That is definitely no longer the case. After seven matches he stands third in the league. Tonight he had a 2-1 victory over Colin Berry and lost narrowly to Malcolm Lees by 1-0. Halpin was convinced that he had taken the lead against the league champion. His acute angled chip had rebounded back off the inside of the post. The referee, however, did not share Halpin's certainty that the ball had crossed the line. A single second half goal gave Lees the points. But Halpin had matched Lees in this game and did not deserve to lose.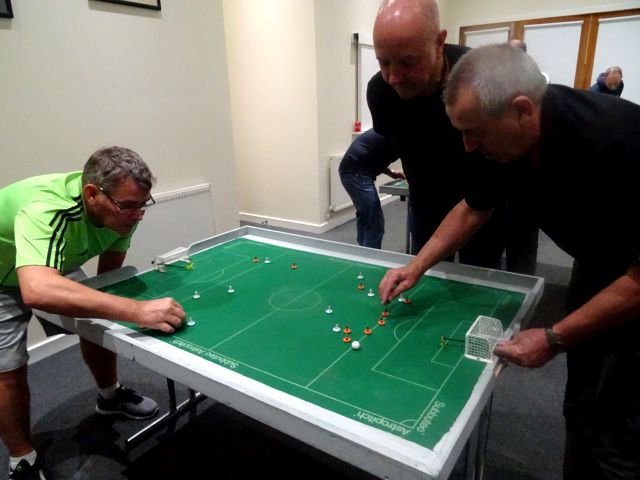 Lees 3-0 defeat of Colin Berry suggests a comfortable win but Lees had to work hard for the points with Berry only conceding the third goal in the final seconds. Lees goes back to the top of the league but he only leads Tom Burns by one point. Both players have the same goal difference but Burns has scored more goals. This is due to Burns' emphatic 7-0 victory over John Mathieson. Mindful of the importance of goal difference in his title battle with Lees, Burns showed no mercy to GTSA's newest recruit.
After tonight's 0-0 draw with Dave Houston, Dave Gladman has now had clean sheets in seven of his eight games but he has only scored four goals in total. He dominated possession in this game especially in the first half and really should have won. Scoring goals remains a problem. Houston who was dogged and defended well, could have stolen the match but he too has difficulty finding the net and is still seeking his first win.
Houston did score in his Glasgow Cup encounter with Tom Burns but also conceded three. It was a decent performance by Houston though and Burns had to work hard for the victory.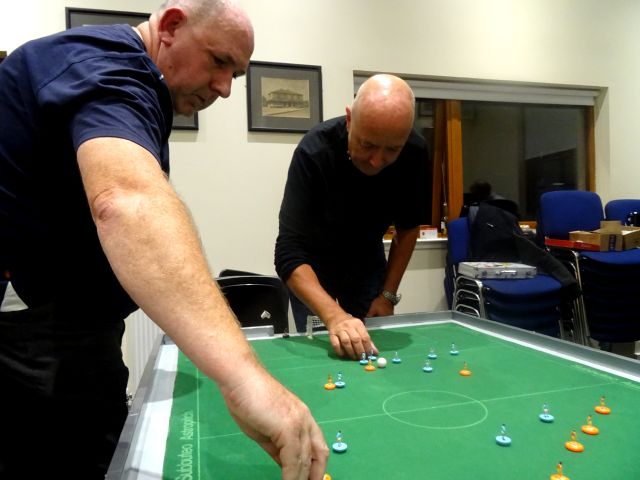 Results
League:
| | | | |
| --- | --- | --- | --- |
| Lees | 1 | 0 | Halpin |
| Burns | 7 | 0 | Mathieson |
| Berry | 1 | 2 | Halpin |
| Gladman | 0 | 0 | Houston |
| Lees | 3 | 0 | Berry |
Glasgow Cup
| | | | |
| --- | --- | --- | --- |
| Mathieson | 1 | 0 | R McKenzie |
| Burns | 3 | 1 | Houston |