Only five matches took place this evening, four in the league and one in the Glasgow Cup.
Malcolm Lees and Willie Fleming fought out a 1-1 draw in the Glasgow Cup. Lees took the lead in the second minute but never managed to build on that early advantage. Fleming also found it difficult to create good chances but did score the equaliser well into the second half. Lees is favourite to win the group but leads Fleming by a single point, each having one match to play.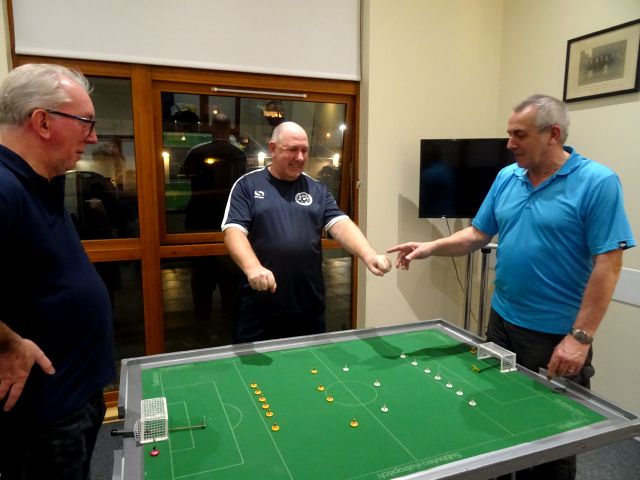 In the league only one point separates Lees and Tom Burns. Burns moved three points closer to Lees tonight and he still has one game in hand. If we were to say that Burns lost five goals in two matches we might think it had been a disappointing night for him but in fact his goals scored tally was fourteen. Baver Bari was 4-1 down to Burns at half-time but was able to steady the ship a little in the second half eventually losing 5-2. But it was Burns match against Fleming that produced an incredible scoreline the like of which we haven't seen since early GTSA days. Fleming's team were in the colours of Partick Thistle but his goalkeeper was surely wearing Frank Haffey gloves. Nine times he had to retrieve the ball from the back of his net. We know that Burns likes to attack and shoot when he can and in this match his shooting boots were fitting perfectly. Burns' attacking policy does leave him vulnerable in defence and ordinarily Fleming's three goals would have been enough to win most matches. If Burns is scoring more than he is conceding then he won't be too unhappy.
Fleming started the evening with a decent draw against Lees and they were to play again in the league and once more Lees led 1-0 at half time. But this time time Fleming resistance was broken with Lees adding three second half goals.
John Halpin and Dave Gladman lie third and fourth in the league but in this match neither could find the net. The first half was even but Halpin had the better opportunities in the second. Right at the end Halpin almost set up a winning chance but a fine last ditch block flick by Gladman prevented the shot. This was Gladman's sixth 0-0 draw of the campaign.
Glasgow Cup
League
| | | | |
| --- | --- | --- | --- |
| Burns | 5 | 2 | Bari |
| Fleming | 3 | 9 | Burns |
| Gladman | 0 | 0 | Halpin |
| Lees | 4 | 0 | Fleming |