The first club night of 2017 saw a good turn-out of players. Play focussed on the Glasgow Cup with 4 matches in Group A and 3 matches in Group B taking place. In Group A the pressure was on Willie Fleming who had lost his opening match against Dave Gladman. His opponents tonight, John Halpin and Colin Berry had both drawn with Fleming in their league encounters. Tonight, however, Fleming found fine form and gave notice that 2017 could be a good year for him with two 3-0 victories.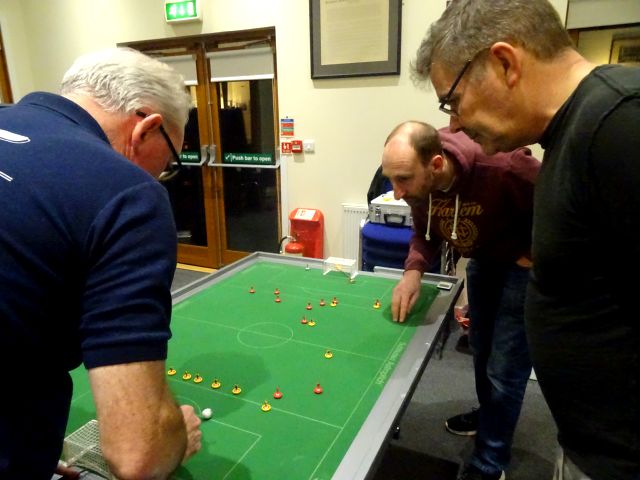 Colin Berry had better fortune against Malcolm Lees. Lees led 1-0 at half-time but he never managed to boss this match as his play was riddled with errors. Berry was compact in defence but he seldom was able to set up chances until late in the game when a deflected shot went high over the goalkeeper into the Lees net. It was a deserved draw for Berry. After Fleming's two wins Lees was able to return to the top of Group A with a 2-0 win over Gladman. Both players had a similar number of chances but twice Lees was able to take advantage when Gladman couldn't force a throw.
In Group B Baver Bari, Dave Houston and Ronnie McKenzie played a round robin with each player winning one and losing one. Houston started with a single goal victory over Bari but then lost by two to McKenzie. In the final match of the evening Bari and McKenzie were pitched against each other. Bari scored in the first half and kept the lead until mid-way through the second when McKenzie fired in the equaliser. It looked as if the match would finish in a draw but in the final minute McKenzie chose to block the ball instead of the man and Bari pounced. Bari's scream of joy woke up several children in the surrounding neighbourhood.
Glasgow Cup
Group A
| | | | |
| --- | --- | --- | --- |
| Fleming | 3 | 0 | Halpin |
| Berry | 1 | 1 | Lees |
| Berry | 0 | 3 | Fleming |
| Lees | 2 | 0 | Gladman |
Group B
| | | | |
| --- | --- | --- | --- |
| Houston | 1 | 0 | Bari |
| R McKenzie | 2 | 0 | Houston |
| Bari | 2 | 1 | R McKenzie |