The single remaining game in Group B of the Glasgow Cup was played tonight. Not unexpectedly Tom Burns was victorious over Ronnie McKenzie. Burns pushed his number of goals scored in the group to 20 but McKenzie did manage two goals in reply. The 4 qualifiers are therefore Tom Burns, Dave Houston, Baver Bari and Ronnie McKenzie. With the seeding system in place Baver Bari will play Willie Fleming and Ronnie McKenzie will face Malcolm Lees. The others ties will be decided after the final game in Group A.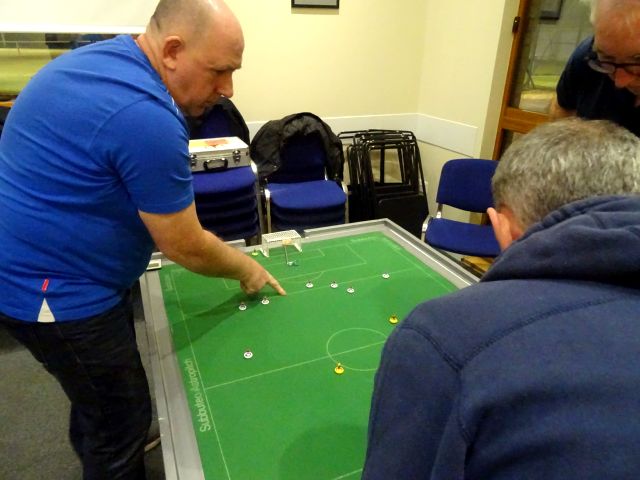 Ronnie McKenzie was to have better luck later, winning both the two league games he played. First was a close encounter against Baver Bari where the match was decided by a trundling McKenzie shot which deceived the Bari keeper. Second was a more comfortable victory over John Mathieson. These wins, his first points, took McKenzie off the bottom of the table. Having played only four games he still has a lot of catching up to do.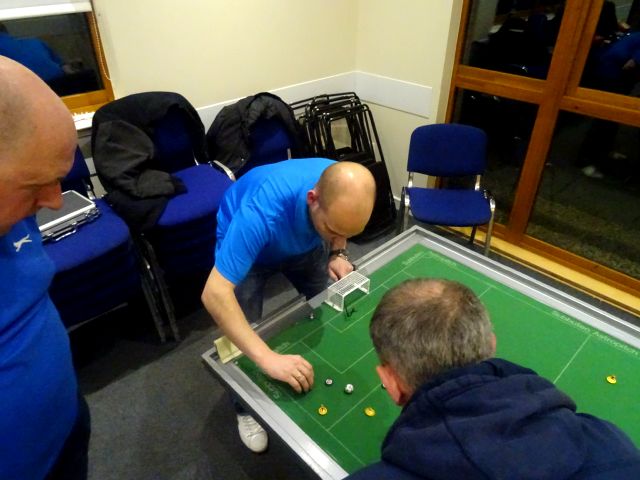 Although not picking up the points he would like, Mathieson has become much more competitive in his matches. Tonight he led John Halpin by a goal at half-time. Halpin had chances but couldn't take them. Mathieson was unable to keep his lead, however, and two second half goals gave Halpin the points which take him back to third in the league.
Willie Fleming recorded only his second league victory by beating Dave Gladman 3-1, Gladman's second loss in 14 matches. Fleming led 2-0 at half-time after being the fortunate beneficiary of a penalty right on the whistle. Gladman did score early in the second period but Fleming countered within a minute and ran out a worthy winner. It was his first victory over Gladman for 2 years.
Glasgow Cup
League
| | | | |
| --- | --- | --- | --- |
| Gladman | 1 | 3 | Fleming |
| Halpin | 2 | 1 | Mathieson |
| Bari | 0 | 1 | R McKenzie |
| R McKenzie | 2 | 0 | Mathieson |
w