Tonight's focus was on the Glasgow Cup. The one remaining fixture in Group A was between Colin Berry and John Halpin. To qualify Halpin needed to win whilst Berry needed only a draw. This was a close fought match which swung back and forth. At half-time the players were locked at 1-1 but it was Halpin who edged the second half and qualified with a 3-2 win. The quarter final line-up was therefore:
| | | |
| --- | --- | --- |
| Lees | v | R McKenzie |
| Fleming | v | Bari |
| Gladman | v | Houston |
| Halpin | v | Burns |
The first two matches were played. Malcolm Lees powered past Ronnie McKenzie with an emphatic 4-0 victory. The other tie between Willie Fleming and Baver Bari was a much tighter match which was decided in the first half when a weak Fleming shot deceived the Bari keeper and found the corner of the net. After this, few decent chances were created by either player as the game was fought out in midfield. But, since he had the lead this suited Fleming quite well.
Four league matches took place and in one Tom Burns title hopes took a knock. Colin Berry has made himself a very difficult opponent this season and tonight that was proved at Burns' cost. It could have been worse as for Burns as he trailed Berry with only two minutes remaining. Burns did have the chances to win this match but it wasn't to be. As a result Malcolm Lees can now overtake Burns by one point if he wins his two games in hand. Lees wasn't expected to drop points in his match with John Mathieson and the final score of 4-0 suggests a comfortable win. Mathieson did play and compete well and the result was an improvement on his last Lees' encounter.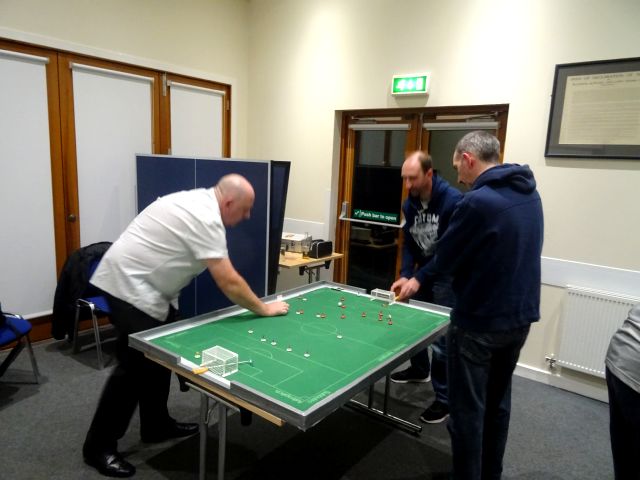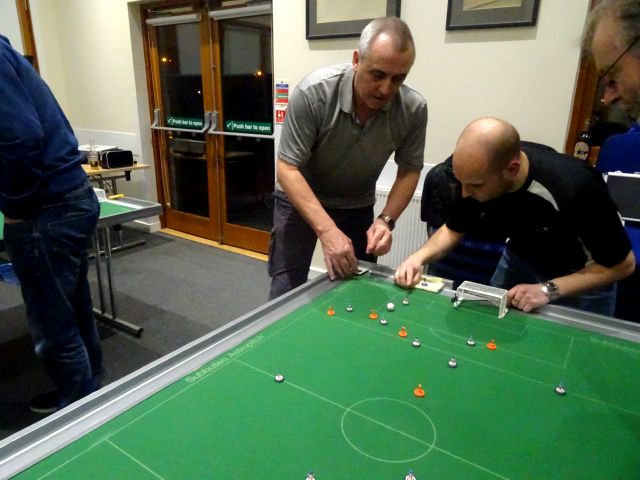 John Mathieson's only league victory this season was against Baver Bari and he was hoping for a repeat tonight. In an entertaining game Mathieson did lead but Bari came back with two goals to record his third league win.
Ronnie McKenzie has a number games to catch up in the league having played as many Glasgow Cup as league matches. Tonight he drew 2-2 with Dave Gladman. Gladman had far more shots on goal in the first half but could not find the net, most of his chances coming from wide angles. It was McKenzie, however, who took the lead just into the second half. It became a much more open game with Gladman no longer dominating the ball as he had in the first half. Twice McKenzie went ahead and twice he was pegged back.
Glasgow Cup
Group
Quarter Finals
| | | | |
| --- | --- | --- | --- |
| Lees | 4 | 0 | R McKenzie |
| Fleming | 1 | 0 | Bari |
League
| | | | |
| --- | --- | --- | --- |
| Burns | 2 | 2 | Berry |
| Mathieson | 0 | 4 | Lees |
| Gladman | 2 | 2 | R McKenzie |
| Bari | 2 | 1 | Mathieson |
v