It was possible for only four matches to be played, two in the league and two in the Glasgow Cup. Malcolm Lees moved three points closer to Tom Burns at the top of the league with a 3-1 win over Barry Corr. Corr started on the front foot and for several minutes had Lees pinned in his own half. Corr repeatedly forced corners and throw-ins around the Lees goal but could not find a way through. Then on his first attack Lees took the lead. Once again Corr drove forward only to be hit by another Lees sucker punch. Lees had more of the game in the second half and Corr did manage to score but three goals down it was only consolation. Lees won the match with the qualities which have made him Glasgow champion – the ability to defend well when under pressure and an excellent goals to shots ratio.
John Halpin's fading hopes of finishing third were finally snuffed out when he went down 2-1 to Willie Fleming. Halpin had started well and led 1-0 at half-time but Fleming came back in the second period. Ronnie McKenzie and Barry Corr remain as threats to Fleming achieving third spot.
The Glasgow Cup semi-finals were also played. In the first Malcolm Lees took the lead against Tom Burns and held it until the equaliser right on half-time. That goal was crucial to the outcome of the match. Burns was able to start the second half without any pent up frustration and went on to score two fabulous goals to secure his place in the final.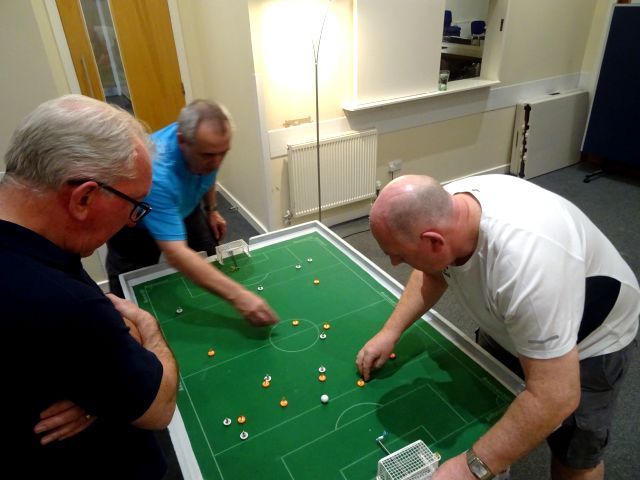 The second semi-final between Willie Fleming and Dave Gladman was a much more dour affair. In a match littered with mistakes neither player was able to gain ascendancy. Both players did have opportunities but did not come close to scoring. They will have to do it all over again.
League
| | | | |
| --- | --- | --- | --- |
| Halpin | 1 | 2 | Fleming |
| Corr | 1 | 3 | Lees |
Glasgow Cup
| | | | |
| --- | --- | --- | --- |
| Burns | 3 | 1 | Lees |
| Fleming | 0 | 0 | Gladman |
e