Malcolm Lees used up one of his games in hand over Tom Burns and moved three points closer to the top. Lees' goal difference improved considerably with two wins including a 7-0 thumping of Colin Berry. Berry's previous performances against Lees had been good but tonight he faced a champion in devastating form. Lees and Burns are still to play and Burns' goal difference is now only five goals superior. That margin could have been smaller but for Willie Fleming's second half fight back against Lees. Fleming had a lot of the ball and attack in this game but it was Lees' finishing power which made the difference. Lees raced to a 3-0 lead with Fleming looking dispirited. But a Fleming strike revived his spirits and he was able to make the score more respectable with a late second goal.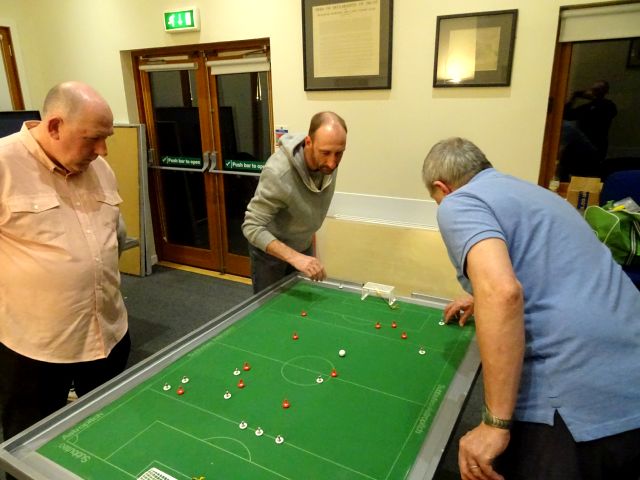 Ronnie McKenzie's move up the league continued tonight. He now lies in third spot and is looking favourite to finish in that place. He did struggle to beat a stubborn John Mathieson but then took great satisfaction in a 3-0 win over Colin Berry. A miserable night for Berry was completed when he went down to the same scoreline against John Halpin.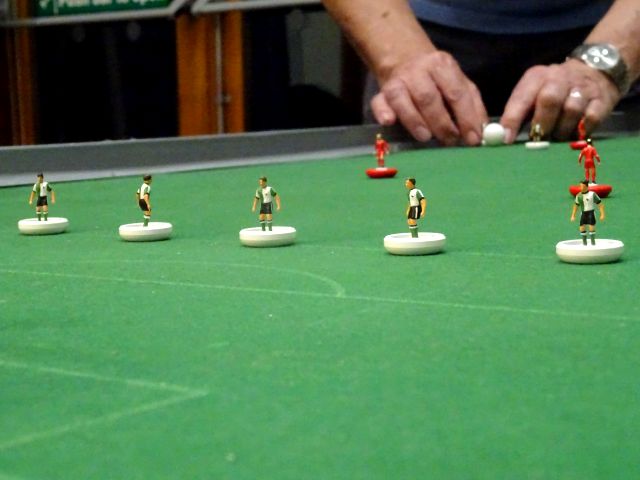 Fraser McKenzie returned to action and started well against Baver Bari taking the lead after only a few minutes. Bari, however, scored a deserved equaliser before the break. It was a close fought match but Bari proved to be the better finisher and edged out McKenzie 3-2. McKenzie might have hoped for a better result but in his second match, against Tom Burns, his expectations were obviously lower. He suffered a 4-1 defeat but at least he won't have to face Burns again in the league.
In the Woodend Handicap Cup John Mathieson started with a two goal advantage over John Halpin. Mathieson began well and took the game to Halpin but as so often happens Halpin broke away to pull back to 2-1 and so it stayed until half-time. With his lead reduced to one goal Mathieson became more cautious but not long into the second period Halpin brought the score level and then went on to break Mathieson's heart when he netted a third. Halpin joins Dave Gladman in the semi-final.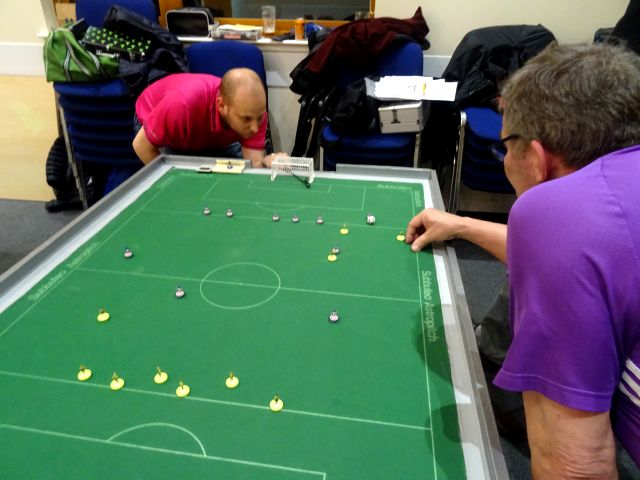 League
| | | | |
| --- | --- | --- | --- |
| Lees | 3 | 2 | Fleming |
| Berry | 0 | 7 | Lees |
| Bari | 3 | 2 | F McKenzie |
| Mathieson | 0 | 1 | R McKenzie |
| Berry | 0 | 3 | Halpin |
| F McKenzie | 1 | 4 | Burns |
| R McKenzie | 3 | 0 | Berry |
Woodend Handicap Cup
y