Tom Burns has won back the league title from Malcolm Lees. It took him until his last league match to achieve it. He knew that a draw against Barry Corr would be sufficient but a defeat would leave the door open for Lees. Twice Corr took the lead in this match but Burns was determined to deliver the title and twice he levelled. A third goal meant that he finished his campaign on a winning note. The League Championship title is now back in Burns' hands two years after just edging out Dave Butler. The crucial difference was the second head to head encounter between the two rivals when Burns was the victor. Burns' goal difference was marginally better but all else was equal. Both players had three draws and both lost to Dave Gladman. It was an exciting campaign which went right to almost the last match. Congratulations to Burns!
Elsewhere in the league Fraser McKenzie picked up 5 points with a surprise 1-0 win John Halpin and 2 draws, one against Ronnie McKenzie and the other against John Mathieson. Ronnie McKenzie's draw was a blow to his hopes of finishing third but a key game will be his remaining encounter with Willie Fleming. Colin Berry edged out John Mathieson. With three very winnable games to go Berry hopes for a strong finish to his campaign.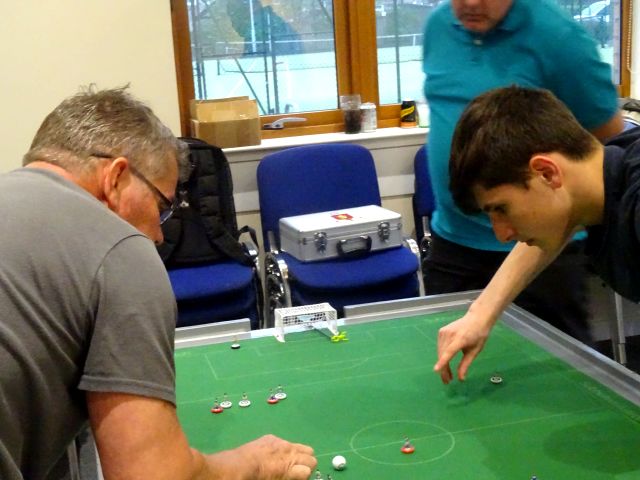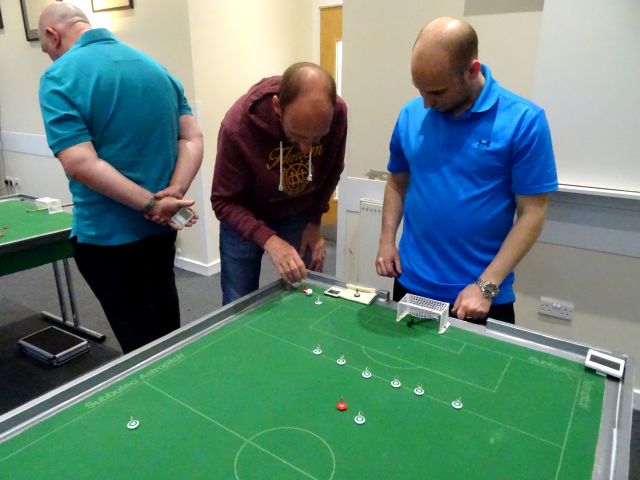 In the Association Cup two players reached the semi-finals. Tom Burns overcame Baver Bari and John Halpin put out Colin Berry. Bari opened the scoring against Burns and performed well but Burns scored his goals at crucial times and deserved to advance.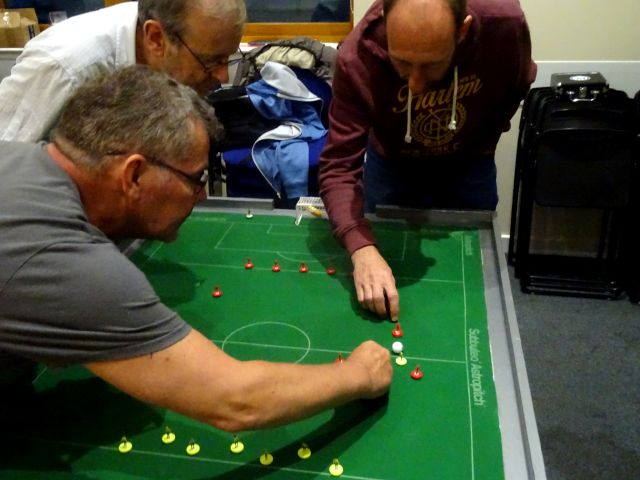 Willie Fleming and Dave Gladman played out their Glasgow Cup semi-final replay. The first half was goal-less with Gladman having more of the chances but it was mid-way into the second half when Gladman took the lead. He was not able to hold that lead and when, two minutes from the end, he carelessly lost possession in his own half Fleming pounced and levelled the match. The game entered extra-time with the possibility of a golden goal. Fleming had the better of this period but he couldn't find the net. He couldn't find the net either when they went to shots to decide the match. Gladman scored twice and earned a place in the final against Tom Burns.
League
| | | | |
| --- | --- | --- | --- |
| Burns | 3 | 2 | Corr |
| F McKenzie | 1 | 0 | Halpin |
| Mathieson | 0 | 1 | Berry |
| R McKenzie | 3 | 3 | F McKenzie |
| F McKenzie | 1 | 1 | Mathieson |
Association Cup
| | | | |
| --- | --- | --- | --- |
| Bari | 1 | 3 | Burns |
| Berry | 1 | 2 | Halpin |
Glasgow Cup
Gladman wins 2-0 on shots
e