The league title has been decided but players are keen to finish their matches and increase their points total. Indeed this was one of the best attended nights of the season with eleven members present. There is still a battle for third place with Willie Fleming and Ronnie McKenzie the main contenders. It was as you were for both players tonight as each fought out a draw. Willie Fleming dropped points to Dave Gladman in a match that Fleming will feel he ought to have won. After a goal-less first half Gladman took the lead, a little against the run of play. There was no denying, however, that it was a fine finish. Fleming equalised when Gladman lost possession and then won a free-kick right on the shooting line. He took too long in setting up a shot and the whistle went before he was able to shoot and score. In any case it was his fourth flick. Ronnie McKenzie meanwhile was only able to draw with Dave Houston. This was Houston's fifth 0-0 draw and his tenth draw overall.
Colin Berry added four points to his total by defeating Fraser McKenzie 2-0 and then drawing with Dave Houston. No goals were scored in a match of few opportunities.
Third place will be decided when Willie Fleming and Ronnie McKenzie meet in their final league match but tonight we had a rehearsal when the two players met in the quarter-final of the Handicap Cup. McKenzie started the match with a one-goal advantage and with each player scoring once that advantage was to take McKenzie into the semi-final. There he will play Dave Gladman.
In the other remaining Handicap Cup quarter-final Fraser McKenzie took on Dave Houston with no handicap for either player. Houston had a lot of possession and attack but he couldn't convert it into goals. McKenzie was much more clinical and ran out 3-0 winner. It was straight into the semi-final for McKenzie against John Halpin who began one goal behind. Halpin is the cup holder and he is determined not to give up that crown. He did what was necessary and scored the two goals which put him in the final once again.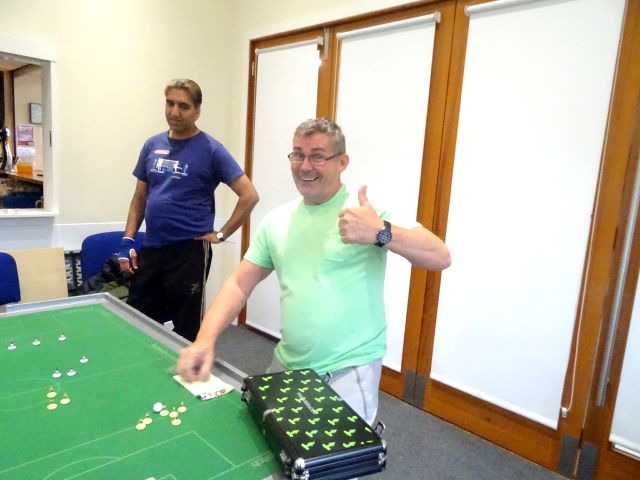 In the Association Cup Malcolm Lees and Dave Houston will have to do it all again after both players failed to find the net in another 0-0 draw involving Houston.
League
| | | | |
| --- | --- | --- | --- |
| Berry | 2 | 0 | F McKenzie |
| R McKenzie | 0 | 0 | Houston |
| Gladman | 1 | 1 | Fleming |
| Houston | 0 | 0 | Berry |
Woodend Handicap Cup Quarter-finals
| | | | |
| --- | --- | --- | --- |
| R McKenzie | 2 | 1 | Fleming |
| F McKenzie | 3 | 0 | Houston |
Woodend Handicap Cup Semi-final
Association Cup
d