Two of the club's three cup competitions were completed tonight. In the remaining semi-final of the Woodend Handicap Cup Ronnie McKenzie faced Dave Gladman, neither player starting with an advantage. With only seconds of the first half remaining Gladman carelessly lost possession when not standing behind his goal. With no hesitation McKenzie blasted the ball into the open goal from an acute angle. Throughout the game Gladman had enough chances to win the game but his efforts were not good enough until a player from distance was able to hit home from around the edge of the box. There was no further scoring, nor was there during extra-time and so the match went to shots. Gladman had been successful in his three previous shoot-outs but not tonight as he failed to score a single goal. Two goals for McKenzie took him into the final and a match up with John Halpin.
McKenzie had little time to plan tactics for the final as he went straight from semi-final to final. Halpin was the cup holder and indeed this was his third final in a row, having lost to Baver Bari two years ago. Halpin has a great affinity to this competition and with neither player starting with an advantage he was the more comfortable player from the start. A goal in each half was enough to retain the cup. Congratulations to Halpin who started with a lower handicap than last season but was still able to win. Perhaps this second victory should result in his next year's handicap being reduced even further. McKenzie has had a good season with a strong performance in the league but he will be disappointed in missing this opportunity to win his first GTSA competition.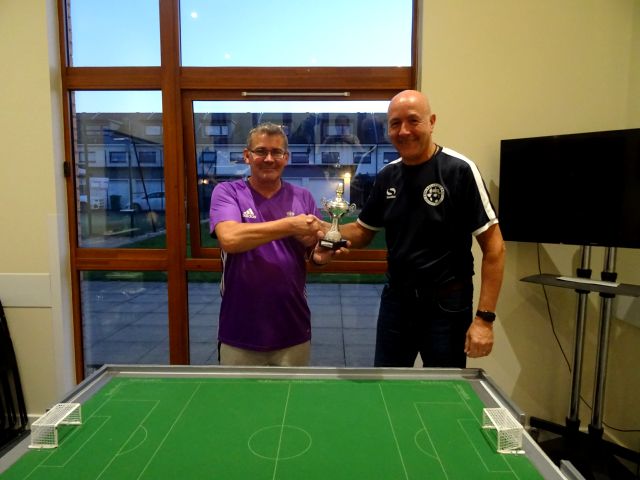 The Glasgow Cup ranks just behind the Association Cup in prestige but Tom Burns took both trophies last season. Dave Gladman was last in the Glasgow Cup final in 2009 when he lost out to Andrea Andreoni. Both Burns and Gladman had contested the Association Cup final two years ago in a rather one-sided affair which Burns won 4-1. Tonight's final was much closer and was only decided with about two minutes remaining when Burns scored the first of his two goals. This was an acute angled lob off a defender into the far corner of the net. Gladman's usual tactic against Burns is to play methodically and hold possession to frustrate his opponent. There wasn't much evidence of that tonight and Gladman's more open play often ended prematurely with loss of possession. As a result Burns had a greater share of possession and more efforts on goal but was frustrated this time by the Gladman keeper and some wayward shooting. Gladman did have the chances to win this match, twice hitting the post in the first half and further close attempts in the second. He will be disappointed too that he failed to capitalise on promising positions against an open Burns' defence. Burns' second goal came in the dying seconds when he broke from defence to cut through the thin Gladman back-line. Congratulations therefore go to Burns who retains the trophy and now has the possibility of the treble by adding the Association Cup. First he must beat the other cup holder, John Halpin, in the semi-final.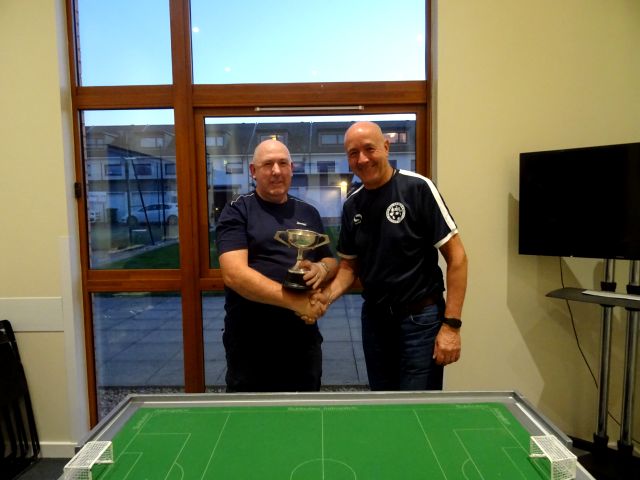 Malcolm Lees and Dave Houston had to face each other twice, first in the Association Cup and then in the league. The cup match was a first round relpay. Both matches ended with the same scoreline, 1-0 to Lees. Houston matched up well in these matches and made Lees work hard for the results. But Houston's failing all season has been lack of goals and that was repeated tonight. Lees finishes three points behind Burns in the league and will face Fraser McKenzie in the next round of the cup.
Permission was given to Fraser McKenzie and Colin Berry to play their outsatanding league match at home. It was a hard fought match with neither player securing any real clear-cut chances. Young McKenzie (posting a note of intention for next season) did have the ball in the net right on the bell at half-time but the referee disallowed it as a late goal.
League
| | | | |
| --- | --- | --- | --- |
| Lees | 1 | 0 | Houston |
| Berry | 0 | 0 | F McKenzie |
Woodend Handicap Cup
Semi-final
R McKenzie wins 2-0 on shots
Final
Association Cup first round replay
Glasgow Cup Final
q