It is with regret that we report that Barry Corr and Malcolm Lees have withdrawn from the Glasgow league. The league table has been updated accordingly. It looks at present as if Tom Burns and Willie Fleming will battle it out for the league title. Burns leads by four points but Fleming has two games in hand.
Two league matches were played tonight and the first was quite a shock as Tom Burns lost to Baver Bari. Burns usually has no difficulty in this fixture but Bari, when he is fully focussed can be a very difficult opponent. Burns did have enough chances to win but Bari did play very well. The result does give Willie Fleming the chance to go back to the top of the league if he wins his games in hand. Also in the league Dave Gladman edged out Colin Berry 1-0. Berry missed a glorious opportunity to take the lead in this match when Gladman's keeper failed to clear but with the goal gaping Berry shot wide.
Gladman's spare goalkeeper was not so lucky in his SPSL match against Tom Burns. After Gladman's failure to force a throw, Burns was able to loop a shot off a defender into the empty net. This came after a goal-less first half when Gladman was unable to convert his dominance into a goal. After going ahead Burns was able to seal victory with an unlikely acute angled shot. Willie Fleming's good Glasgow league form has not been replicated in the SPSL but tonight he was able to record a fine 2-1 victory over Malcolm Lees.
Willie Fleming and Colin Berry will have to repeat their Glasgow Cup Quarter-Final after a goal-less draw. There was some controversy after Fleming felt certain he had scored with a powerful drive, the ball rebounding out of the goal. The referee, however was not so certain.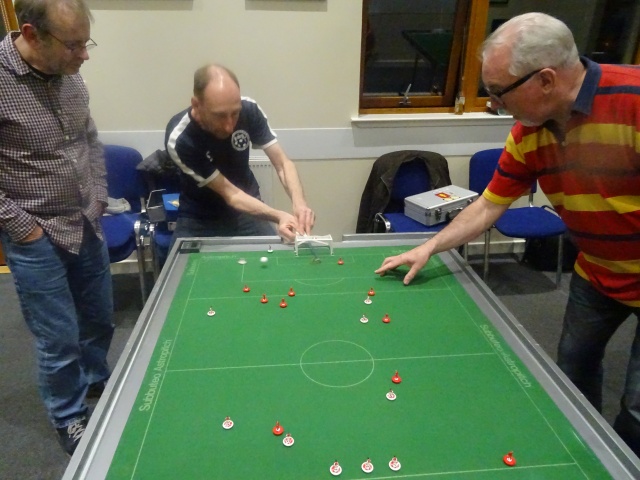 Glasgow League
| | | | |
| --- | --- | --- | --- |
| Bari | 1 | 0 | Burns |
| Gladman | 1 | 0 | Berry |
Glasgow Cup
SPSL
| | | | |
| --- | --- | --- | --- |
| Lees | 1 | 2 | Fleming |
| Burns | 2 | 0 | Gladman |
1