Only 3 matches were played tonight and it was basically a round robin between Baver Bari, Colin Berry and Brian Spoors. First up was an emphatic 6-0 win for Bari over Spoors, a win which took Bari to joint top of the league. Bari dominated a match in which Spoors struggled to keep possession of the ball. Spoors almost managed to reach half-time only a single goal down but conceded in the last seconds of the half. Although he did have a couple of chances, the tale of the second period for Spoors was one of collapse.
Spoors' performance was much improved in his second match against Colin Berry. He retained possession much better but although he did create opportunities, the search for that first goal continues. A single first half goal was enough for Berry to take all three points.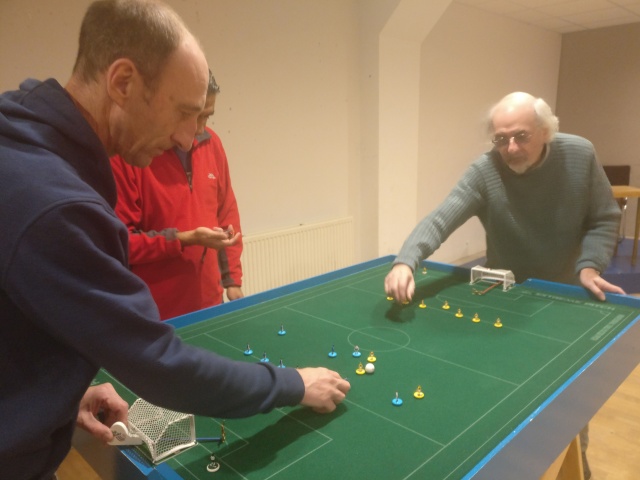 The evening finished with a remarkable game between Bari and Berry. A draw would have been enough for Bari to go clear at the top of the league. Although the first half finished goal-less, Bari looked the much likelier to score. Shortly into the second half Bari took a deserved lead with a lovely angled chip from the right wing. As Bari continued to attack Berry broke forward to win a free-kick which led to him firing home the equaliser. As Bari pressed forward the Berry defence held firm. Then, with seconds remaining Berry again counter-attacked, sending a long ball into the Bari area and following up with a strike from distance on the run. He could not have made a better connection and the ball bulleted into the top corner. All present were stunned. The whistle sounded. It was a win Berry scarcely deserved but then again no-one could disagree that it was a goal fit to win any match.
| | | | |
| --- | --- | --- | --- |
| Bari | 6 | 0 | Spoors |
| Berry | 1 | 0 | Spoors |
| Berry | 2 | 1 | Bari |
The league table can be viewed here.