Tonight saw another good attendance of nine players. Nine matches were played, three in the league and the others in the Glasgow Cup.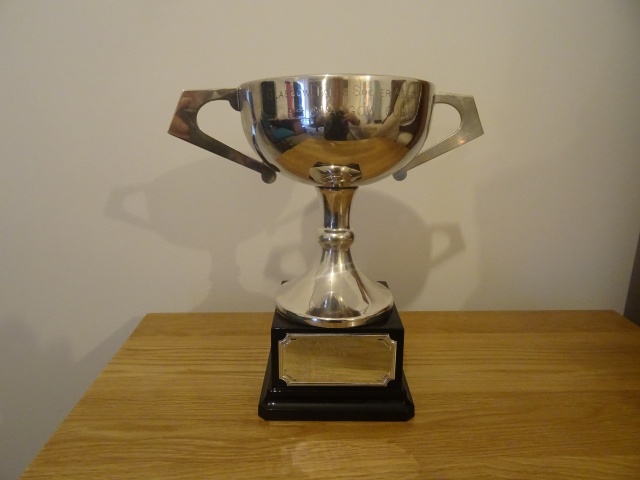 There was, however, one match outstanding from last season's Glasgow Cup, the final itself. Tom Burns lined up against John Halpin. The key moments of this game were to occur in the final moments of each half. It was an excellent encounter between two well matched players. Halpin drew first blood when a missplaced Burns block allowed him a clear sight of goal and he made no mistake with a well struck shot. A lot of the action was taking place in Halpin's defensive right and it was from here that Burns eventually broke through and scored. Halpin had a great opportunity to take the lead but he delayed too long lining up his shot and the half-time whistle went before he fired into the net. It would have been a great boost to take into the second half.
The players remained deadlocked and it looked as if we were heading for extra-time. Then Burns' spare goalkeeper lost possession and Halpin elected to try and score with 5 flicks. Unfortunately he failed to notice that there was only one defender between Halpin's attacker and the goal when the ball was played through. From the resultant offside free-kick Burns moved the ball quickly forward to exploit the gap in the left side of Halpin's area. Halpin's blocks weren't good enough and Burns struck the killer blow. Halpin barely had time to kick off. Heartbreak for Halpin, bliss for Burns.
This season's Glasgow Cup also got underway with four matches in group A and one in group B. In group A, Baver Bari and Dave Gladman both had 2-0 wins over Brian Spoors whilst John Mathieson drew with Bari and Gladman. Spoors has become more competitive in his matches and shows much better possession of the ball but still needs to create more scoring opportunities. In group B, Tom Burns eased out Dave Houston with a goal in each half.
In the league Dave Butler continued his upward trajectory with two 3-0 victories. The first was an expected comfortable win over new player Ryan McPhail and the second against a more difficult opponent in John Halpin. Butler now sits third in the table just three points behind leader Tom Burns and having played two games fewer. Dave Houston recorded his first league win by beating Ryan McPhail, the only goal of the game coming in the second half.
Glasgow Cup Final (2018/19)
Glasgow Cup (2019/20)
Group A
| | | | |
| --- | --- | --- | --- |
| Bari | 2 | 0 | Spoors |
| Gladman | 1 | 1 | Mathieson |
| Mathieson | 0 | 0 | Bari |
| Spoors | 0 | 2 | Gladma |
Group B
League
| | | | |
| --- | --- | --- | --- |
| Butler | 3 | 0 | McPhail |
| Butler | 3 | 0 | Halpin |
| McPhail | 0 | 1 | Houston |
The league table can be viewed here.